LTL has a big surprise for Skritter users.  Find out more at the end of this article!
What are LTL Flexi Classes?
LTL Mandarin School is a language learning platform that offers different programs and experiences for Mandarin Chinese students.  While they offer a variety of options, today I want to talk about their LTL Flexi Classes. 
As a result of COVID, LTL launched these online group classes that allow students to study anywhere at flexible times.  In addition to Mandarin Chinese, they offer classes in Taiwanesse Hokien, Cantonese, Japanese, and more. 
These classes were designed with convenience in mind!  In addition to this flexibility, LTL has designed its very own curriculum covering the HSK material.  These levels include plenty of review classes and some in-between levels (3+ and 4+).  This provides students with plenty of options for review.  If this appeals to you, read on to find out more about these classes!
Who could benefit from LTL classes?
LTL Flexi classes were designed for students who are on a tight schedule or can't adhere to the fixed schedules of most group classes.  These classes provide students with the freedom of choosing the level, time, and topic of each class.  
As someone who is self-studying Mandarin Chinese, I was intrigued by the concept of these classes.  Read on to find out more about my experience with LTL Flexi Classes.  I'll be sharing some of the pros and cons of my experience.
My Experience with LTL Flexi classes
I've been self-studying Mandarin for the past two years, so I was excited to take some classes again.  While I used to take many private lessons while living in China, this was my first experience with online Mandarin classes.
During this experience, I took around 20 LTL Flexi classes and had 10 different teachers.  Even though they are group classes, I was the only student for the majority of them.  So it was almost like taking private lessons!
Overall, I enjoyed my experience with the LTL Flexi Classes and may take more in the future.  So let's dive into some of the pros and cons that I encountered.
Pros of LTL Flexi Classes
First, let's talk about some of the pros:
My class notes are often messy, so I found it helpful that the teachers send annotated notes at the end of every class.  These are very helpful when it comes time to review!  Every teacher has their own style, but I found that most of them write out some grammar points and extra words on the PowerPoint.  Here is an example:
Cons of LTL Flexi Classes
The LTL Flexi Classes are a unique way to work classes into your busy schedule, but, as with most convenient things, there are a few downsides.  Here are some cons that I encountered during my classes: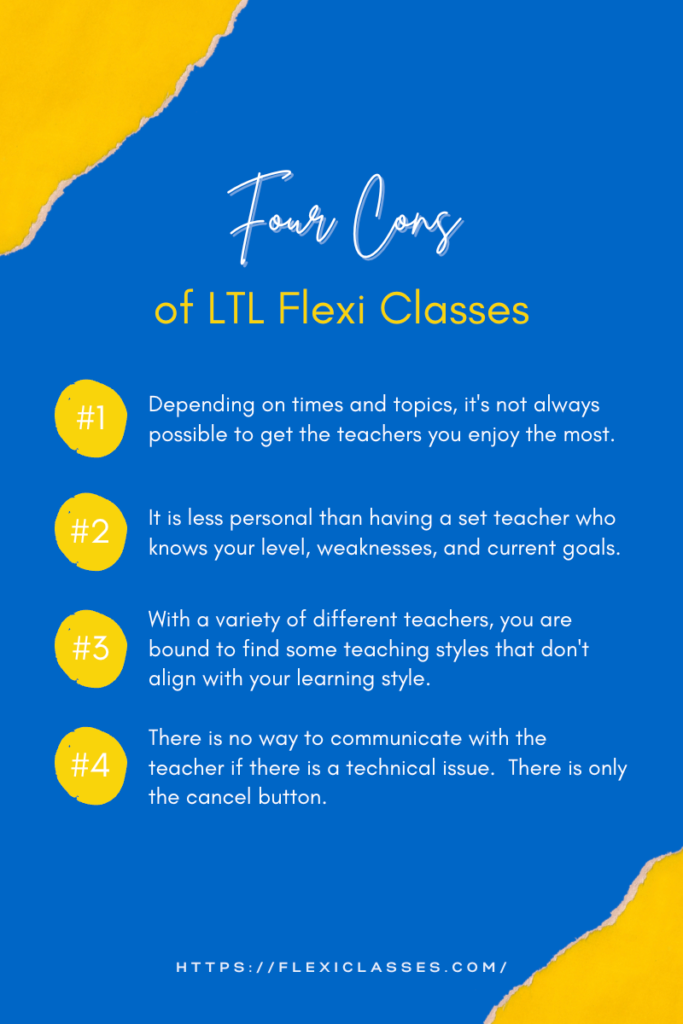 Depending on your schedule and topic selections, you may not always be able to schedule classes with your favorite teachers.  However, LTL tries to make it as convenient as possible.  Once you find a teacher you really like, you can go to their Teacher Profile to see their current classes.  Here is an example:
LTL Study Decks on Skritter
Premade LTL study decks are now available on Skritter.  There is a deck for every LTL level, including the 3+ and 4+ levels, so this means you can use Skritter to review the words you have learned in class.  You can learn more about the Skritter app here.
Discount for Skritter Users
Do LTL's Flexi classes sound like a good fit for you?  If so, we have great news!  LTL is offering big savings to current Skritter users.  You can get 100 USD off your first month of classes.  This is one of their biggest discounts yet!  All you need to do is use the code SKRITTER100 at checkout.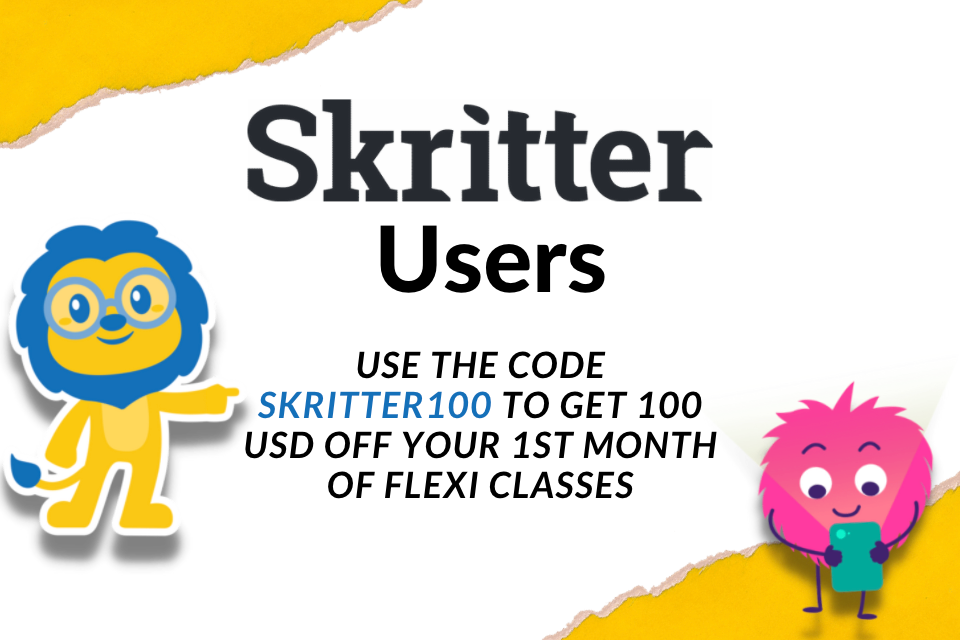 Here is a rundown of their current prices:
The number of credits = the number of classes you will get.  Essentially, if you select the 5 Credits/Month or the Tester 3 Credits, you will receive free classes.  Note, you cannot carry over the spare USD.  If you are interested in trying out these classes, sign up here.
Happy Studies!