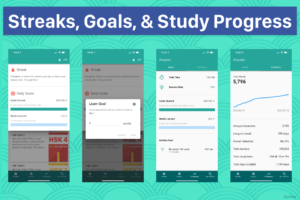 The Skritter: Write Chinese and Skritter: Write Japanese mobile apps are getting a huge update with the 3.6.0 Progress release (now live)! Learn all about what's new in the mobile apps below or download the update today and start studying!
Study Streaks
Learning Chinese and Japanese doesn't happen overnight and often requires daily practice and commitment. Skritter will now help keep you motivated and coming back for more every single day with study streaks. Complete at least one activity inside the mobile apps every day to keep your streak alive.
The streaks are retroactive, so if you've been studying daily for days, months, or even years… you'll get credit from everything you've been doing up until this point. Celebrate your commitment to learning daily, and be sure to share those big milestones with everyone on your favorite social media platforms. Team Skritter is rooting for you!
---
Daily Goals
Want to make sure you stay on track? Try setting some daily goals right inside the apps!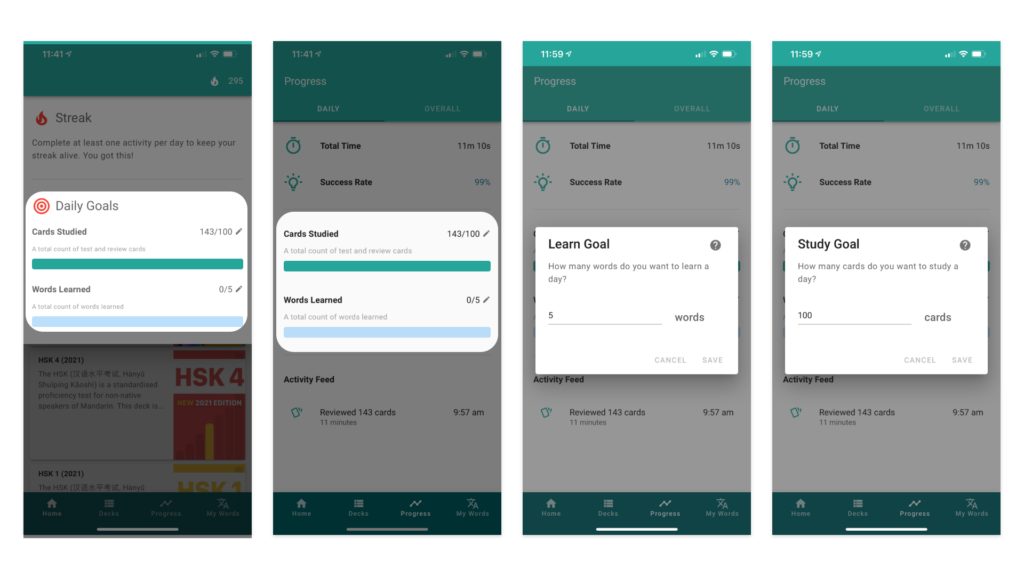 Daily goals are fully customizable and can be set for both total cards studied, and learning new words. We recommend setting a modest goal that you know can achieve every single day. There is nothing wrong with goal over a goal when you're studying, but being too ambitious can make study motivation unnecessarily tough when life gets busy.
Cards Studied
You get credit toward your card studied goal by studying in Review or Test activities. Once you hit your Card Studied goal for the day you'll see an alert appear on the screen.
Words Learned
You get credit toward your learning goal through Learn activities on the deck or deck section level. Words you've previously learned on Skritter. The "Mark as learned" option on preview cards will also increase your Words Learned goal.
---
Progress
This is by far one of the biggest updates to the Skritter mobile apps. Now you can dig deeper into your Daily and Overall progress on Skritter, and see just how far you've come on your learning journey!
Daily Progress
The daily progress tab is where you can see a daily overview of your active study time, success rate, study goals, and an activity feed of everything you've been studying. You can also tap on any activity in the feed to open the detailed Learn, Test, and Review reports, which is perfect for sharing screens with your teachers, or study buddies on social media!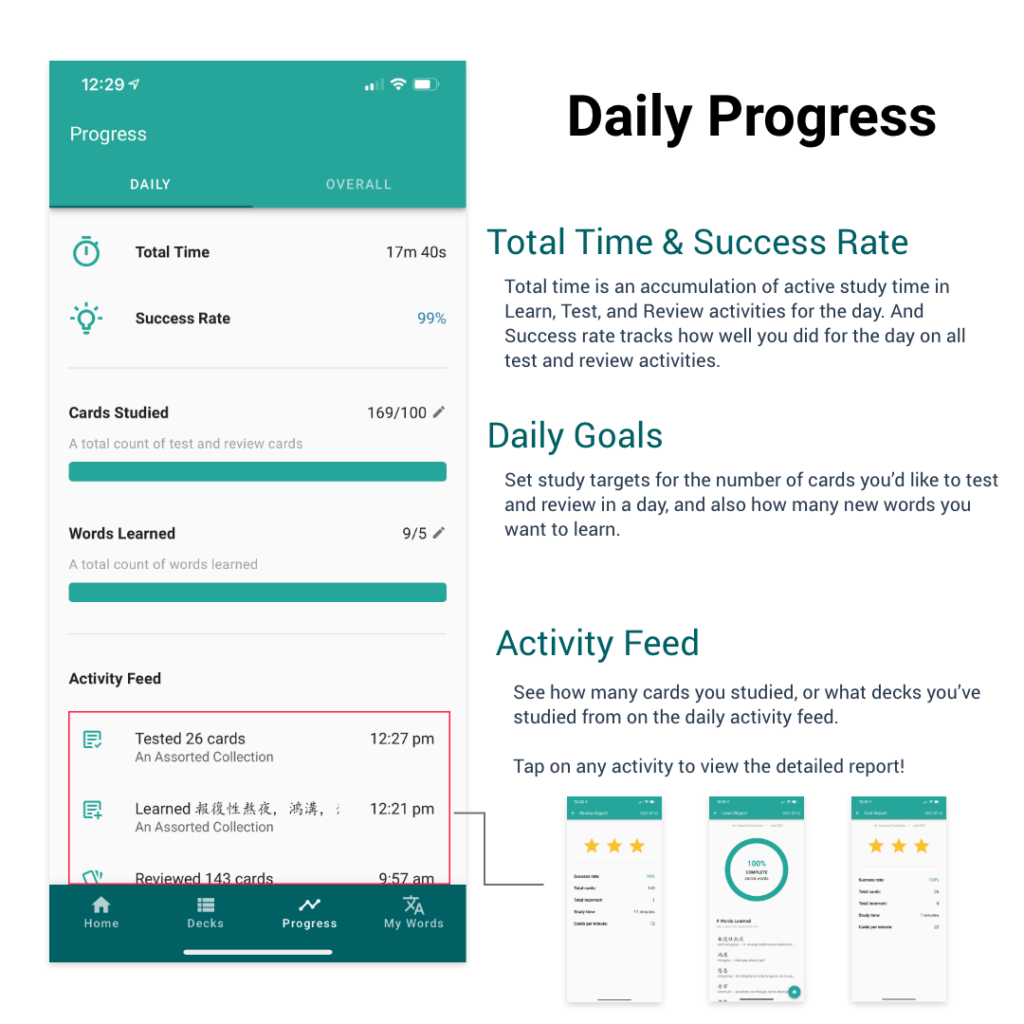 Overall Progress
The overall progress tab is where you can get a detailed overview of everything you've studied and learned on Skritter since you first created or reset your account. This tab only features one graph, but there are plans to include more graphs and additional study metrics in the future.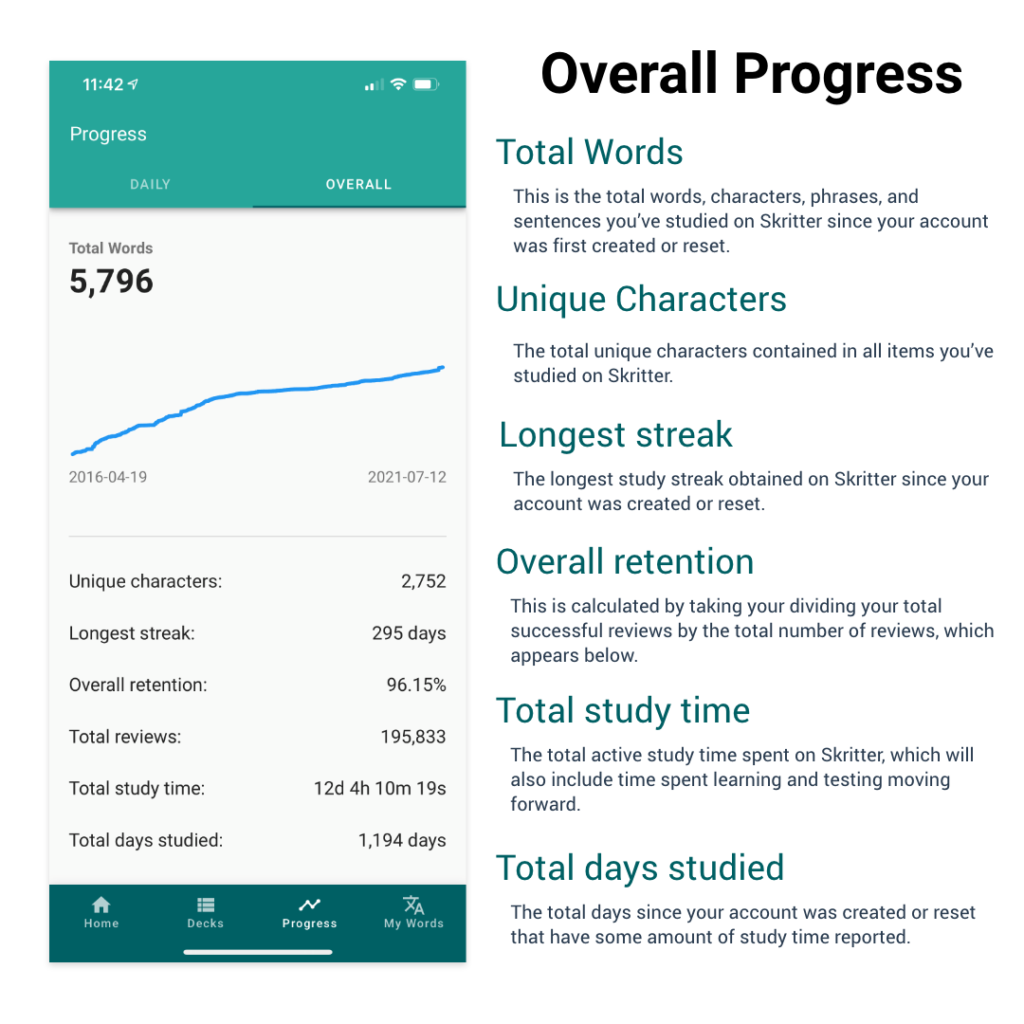 ---
Other App Improvements
This update includes tons of small bug fixes and improvements, along with a few other notable features. Here are a few of our favorites:
New Test and Learn activity reports
High-resolution graphic support
New stroke order animations
All of this and so much more are now available on the App Store and Google Play. If you haven't started using Skritter yet, now is the perfect time to try it out. Learn hundreds of words from our free study decks or upgrade to Premium start your 7-day trial today!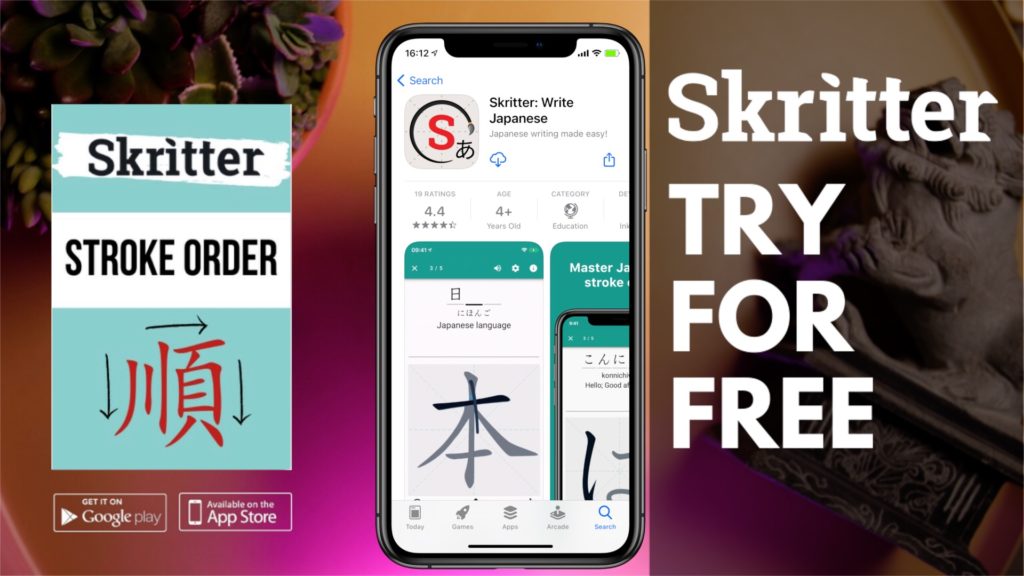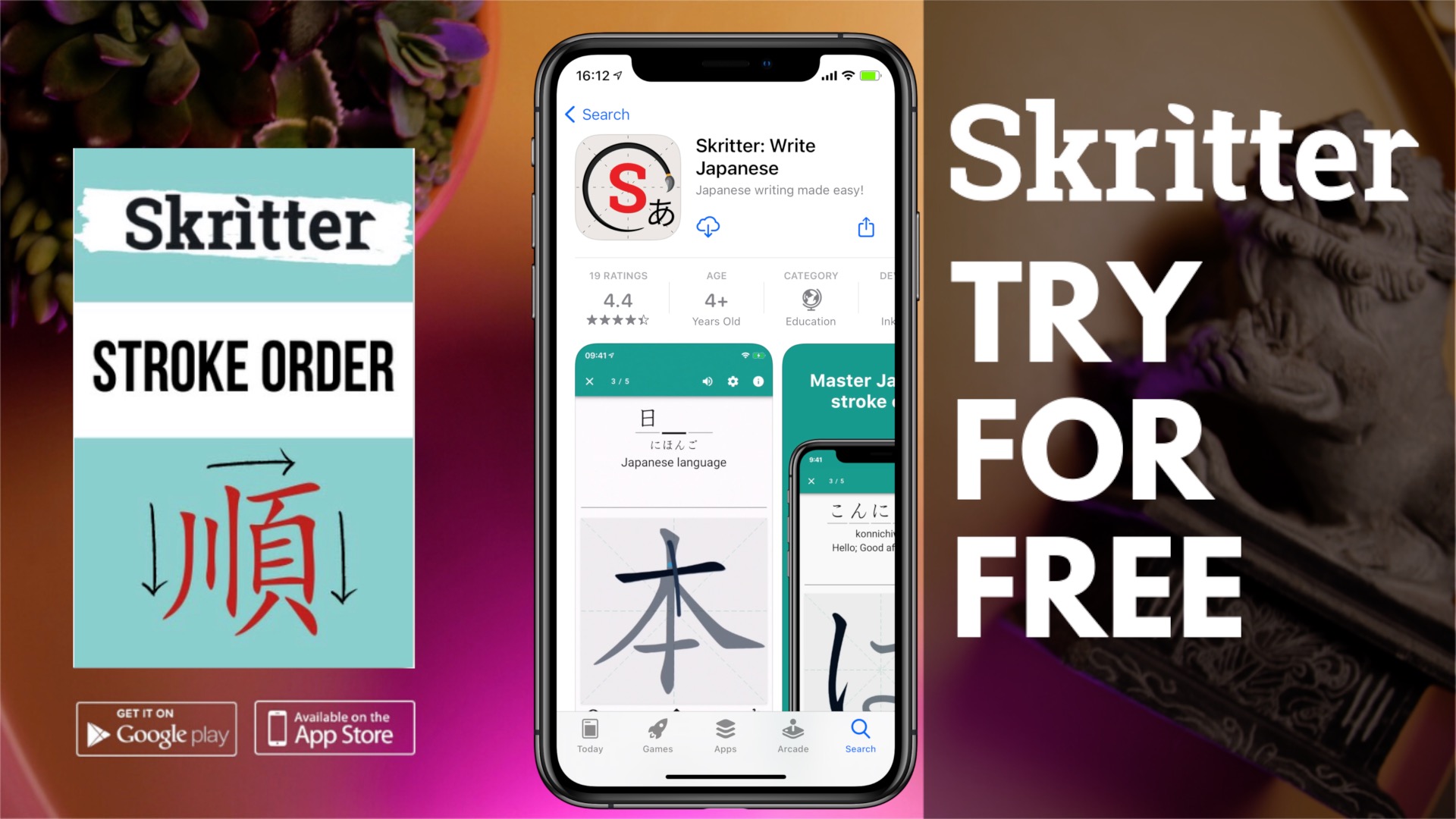 We can't wait to see your learning progress soar with these new updates. As always, happy studying!