Mandarin is a Subject-Verb-Object (S-V-O) language. English is also an S-V-O language, but in wh-questions, the question word, such as "who" in "who are you", is moved to the beginning of the sentence, making it no longer an S-V-O pattern. In Linguistics, this movement is called the "Wh- movement".
Mandarin doesn't go through the wh-movement, and all wh-questions still follow the S-V-O order.
In this post, we'll learn the "Wh-" questions in Mandarin Chinese, and see how they are used in sentences. Study the deck on Skritter here.
If you want to learn about asking yes/no questions first (we recommend this), click here to read the blog.
Below are 10 examples of using Wh- questions in Mandarin Chinese.
#1 WHO
谁/誰 shéi
那是谁?
那是誰?
Nà shì shéi?
"Who is that?"
#2 WHAT
什么/什麼 shénme
你早上吃了什么?
你早上吃了什麼?
Nǐ zǎoshang chīle shénme?
"What did you eat this morning?"
#3 WHEN
什么时候/什麼時候 shénme shíhou
爸爸什么时候回家?
爸爸什麼時候回家?
Bàba shénme shíhou huíjiā?
"When is Dad coming home?"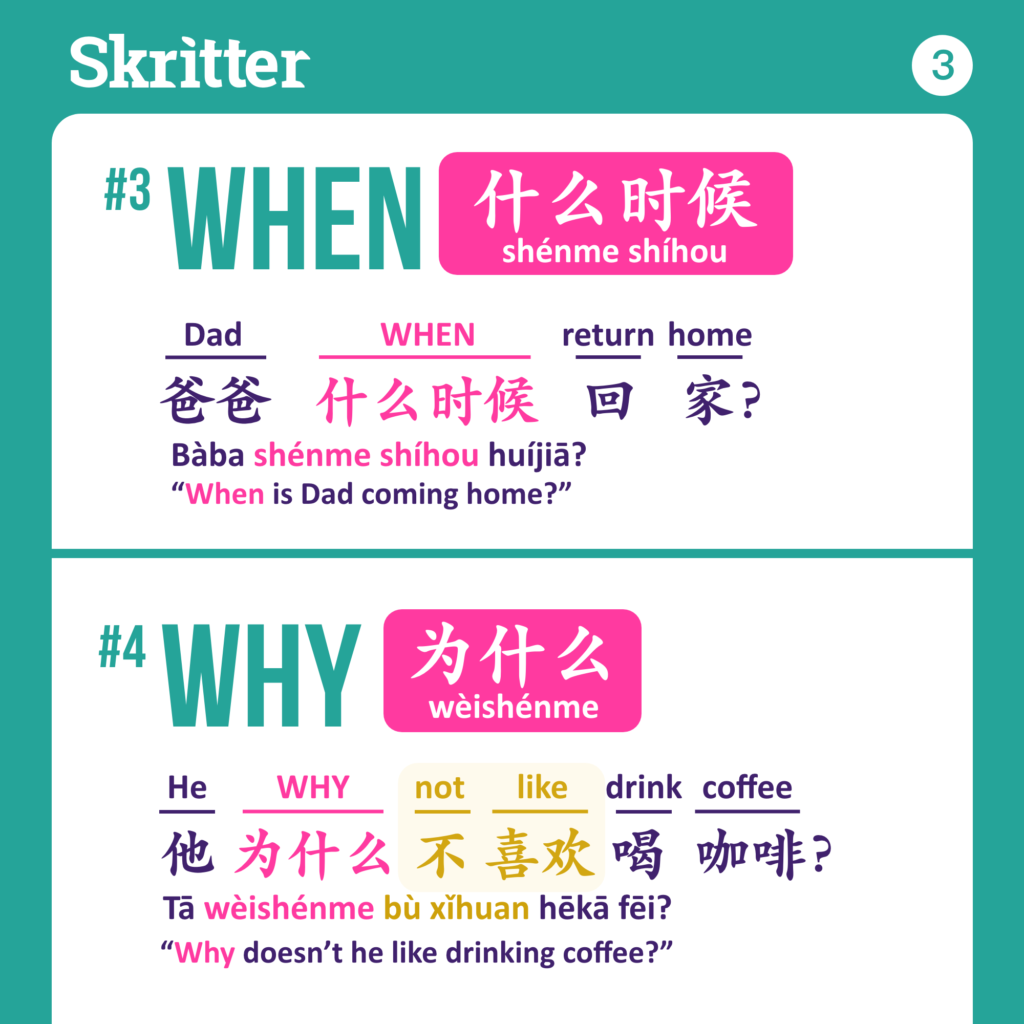 #4 WHY
为什么/為什麼 wèishénme
他为什么不喜欢喝咖啡?
他為什麼不喜歡喝咖啡?
Tā wèishénme bù xǐhuan hēkā fēi?
"Why doesn't he like drinking coffee?"
Note: 为什么 serves as an adverbial phrase here and adds more information to the verb 不喜欢.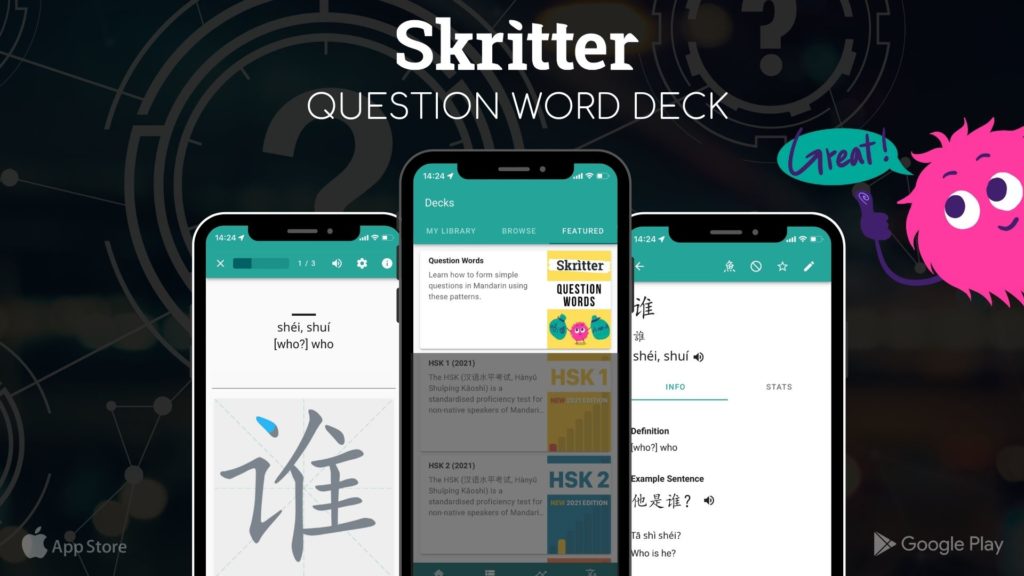 #5 WHERE
哪儿 or 哪里 / 哪兒 or 哪裡 nǎr / nǎ'ér or nǎlǐ
你周末要去哪儿?
你週末要去哪兒?
Nǐ zhōumò yào qù nǎ'ér?
"Where are you going this weekend?"
你去哪里运动?
你去哪裡運動?
Nǐ qù nǎlǐ yùndòng?
"Where do you go to exercise?"
#6 WHICH
哪 nǎ + measure word
你喜欢哪件,黑色的还是灰色的?
你喜歡哪件,黑色的還是灰色的?
Nǐ xǐhuan nǎ jiàn: hēisè de háishi huīsè de?
"Which one do you like, the black one or gray one?"
Note: 个/個 – For "which", a measure word (MW) is required in Mandarin. 哪个 is shorten from 哪一个 "which item".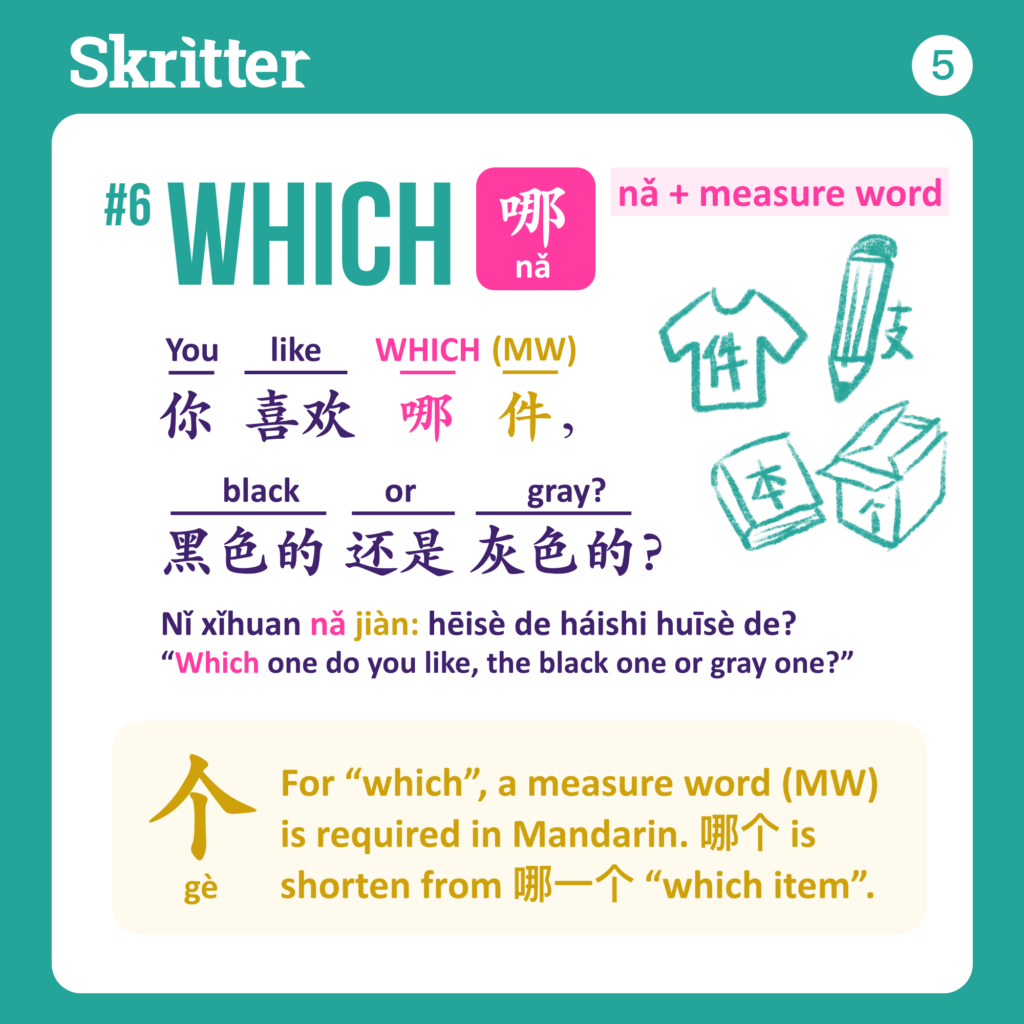 #7 HOW MANY
几/幾 jǐ + measure word
In general, "几+MW" asks for a small numbers of thing. Since a MW is required for all items in Mandarin, most things are considered countable.
你今天喝了几杯茶?
你今天喝了幾杯茶?
Nǐ jīntiān hēle jǐ bēi chá?
"How many cups of tea have you had today?"
#8 HOW MUCH/MANY
多少 duōshǎo
多少 is mostly used when the number in question is expected to be big or more than 10. 多少 is also often used to ask for a price, or how much money one has.
这次活动,有多少人参加?
這次活動,有多少人參加?
Zhè cì huódòng, yǒu duōshǎo rén cānjiā?
"How many people participated in this event?"
#9 HOW
怎么/怎麼 zěnme
你平常怎么去上班?
你平常怎麼去上班?
Nǐ píngcháng zěnme qù shàngbān?
"How do you usually get to work?"
#10 HOW COME?
怎么/怎麼 zěnme
你怎么这么晚才起床?
你怎麼這麼晚才起床?
Nǐ zěnme zhème wǎn cái qǐchuáng?
"How come you got up so late?"
Hopefully, you now have a better understanding of the ways to formulate questions in Mandarin Chinese, with lots of sentences you can start using today.
Download the A4 infographic here.