If you haven't seen the first Engrish post, you can check it out by clicking this link!
---
As you continue studying Japanese or just walk around Japan, you'll notice broken English (Engrish) printed on things like signs or shirts certainly isn't hard to spot. I know it might not be the politest thing to laugh at, especially if there is also Japanese text with it so you could see where the mistranslation stemmed from– but that really doesn't make it any less hilarious, though this is coming from an adult who still laughs at the occasional fart joke.
Some of the mistranslations come from the L and R difference, (where they are commonly mixed up), and others are just poorly translated into English from Japanese.
I'm absolutely not promoting making fun of someone's attempt at speaking another language, but these things are massively printed or meant to be massively seen, and at that point is no longer pointing the finger directly at someone… or at least that's how I justify it.
Here are examples of some Engrish you might spot in Japan.
---
Then where do you recommend I grow a hand?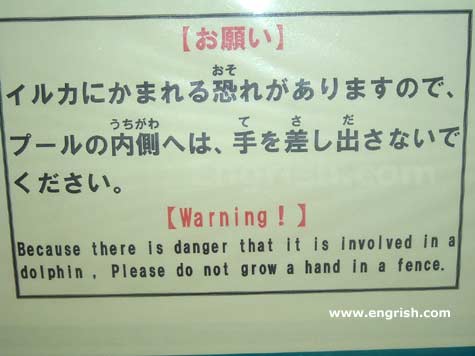 「イルカにかまれる恐れがありますので、プールの内側へは、手を差し出さないでください」
「イルカにかまれるおそれがありますので、プールのうちがわへは、てをさしださないでください」
"Because there's risk of being bitten by the dolphins, please don't reach your hands into the pool."
---
Not even with tape?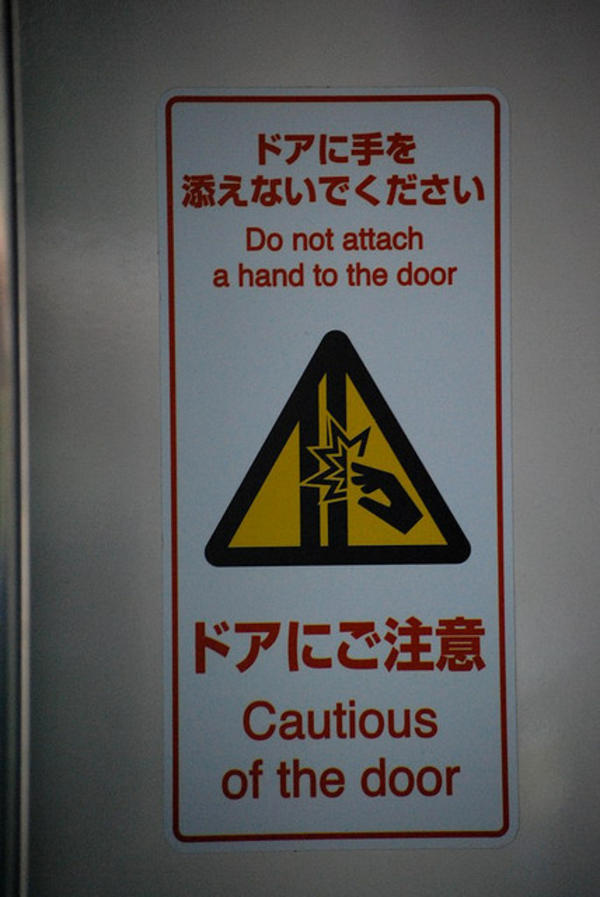 「ドアに手を添えないでください」「ドアにご注意」
「ドアにてをそえないでください」「ドアにごちゅうい」
"Please don't put your hands near this door." "Take caution of this door."
---
If you fall in the pond, you will be boiled.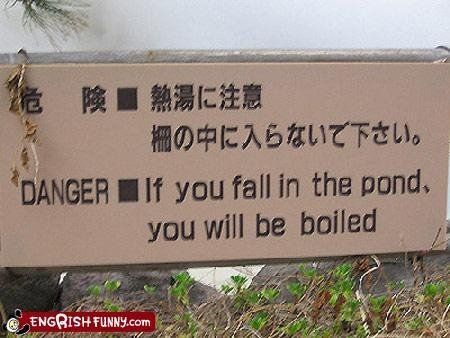 [危険■熱湯に注意」「柵の中に入らないでください。」
「きけん■ねっとうにちゅうい」「さくのなかにはいらないでください」
"Danger■Take caution of the boiling water." "Please do not enter the inside of the fence."
---
Jumping in elevators is a serious crime.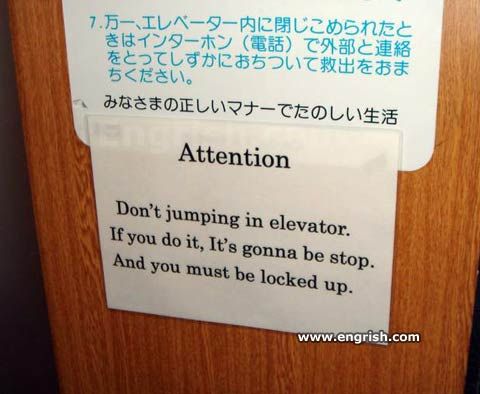 「万一、エレベーター内に閉じこめられたときはインターホン(電話)で外部と連絡をとってしずかにおちついて救出をおまちください。」
「まんいち、エレベーターないにとじこめられたときはインターホン(でんわ)でがいぶとれんらくをとってしずかにおちついてきゅうしゅつをおまちください。」
"If by some chance you become stuck inside the elevator, use the intercom (phone) to contact the outside area, and please quietly calm down and wait for rescue to come."
---
Step 1: Cautiously drop baby. Step 2: Don't leave baby. Step 3: Stare at baby.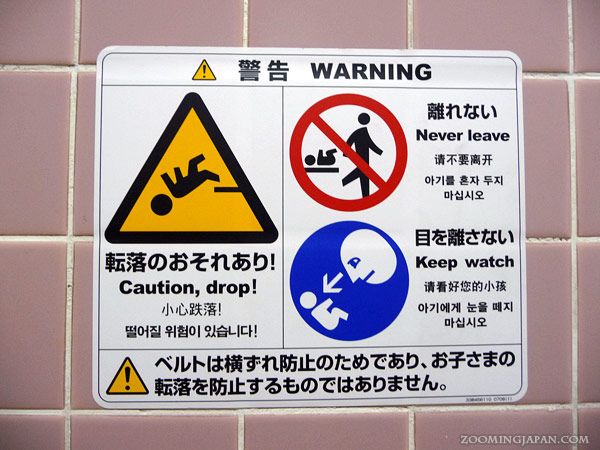 「転落のおそれあり!」「離れない」「目を離さない」「ベルトは横ずれ防止のためであり、お子さまの転落を防止するものではありません」
「てんらくのおそれあり!」「はなれない」「めをはなさない」「ベルトはよこずれぼうしのためであり、おこさまのてんらくぼうしするものだはありません」
"Falling risk!" "Don't leave" "Don't take your eyes off" "The belt is intended to prevent slipping out sideways, but will not prevent your child from falling out".
---
Because it's just as fun going in as it is going out.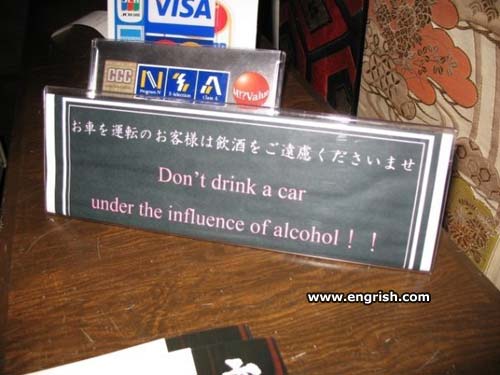 「お車を運転のお客様は飲酒をご遠慮くださいませ」
「おくるまをうんてんのおきゃくさまはいんしゅをごえんりょくださいませ」
"We kindly ask customers who will be driving cars to please refrain from drinking alcohol"
---
Please do not sink!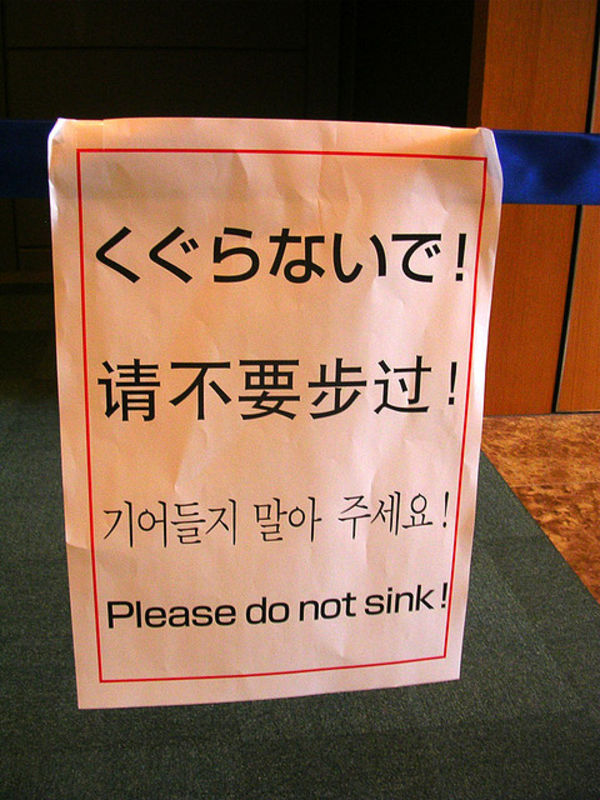 「くぐらいないで!」
"Do not pass!"
---
I hope they can finish today by tomorrow.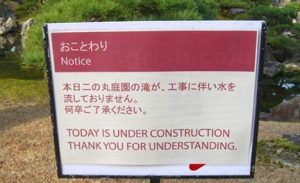 「おことわり」「本日二の丸庭園の滝が、工事に伴い水を流しておりません。何卒ご了承ください。」
「おことわり」「ほんじつののまるていえんのたきが、こうじにともないみずをながしておりません。なにとぞごりょうしょうください。」
"Notice" "Today the waterfall in Ninomaru Garden is under construction and the water isn't flowing. Thank you for understanding."
---
Thanks, but I always switch on the fun without fail.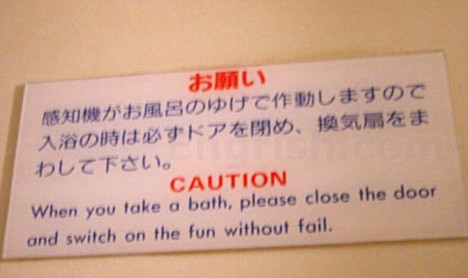 「感知機がお風呂のゆげで作動しますので入浴の時は必ずドアを閉め、換気扇をまわしてください。」
「かんちきがをふろのゆででさどうしますのでにゅうよくのときはかならずドアをしめ、かんきせんをまわしてください。」
"Sensors are automatically activated at the presence of the bath's steam, so when you take a bath make absolutely sure you close the door and turn on the fan".
---
wh… What.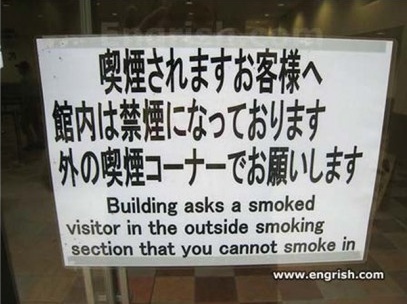 「喫煙されますお客様へ 館内は禁煙になっております 外の喫煙コーナーでお願いします」
「きつえんされますおきゃくさまへ かんないはきんえんになっております そとのきつえんコーナーでおねがいします」
"To customers who will be smoking, smoking is banned inside the building, please use the smoking corner outside".
---
But I love smorking on the bed!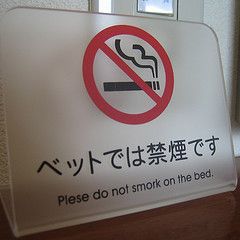 「ベットでは禁煙です」
「ベットではきんえんです」
"Smoking is prohibited in bed".
(ベット is a common misspelling of ベッド)
---
Ehh, no thanks.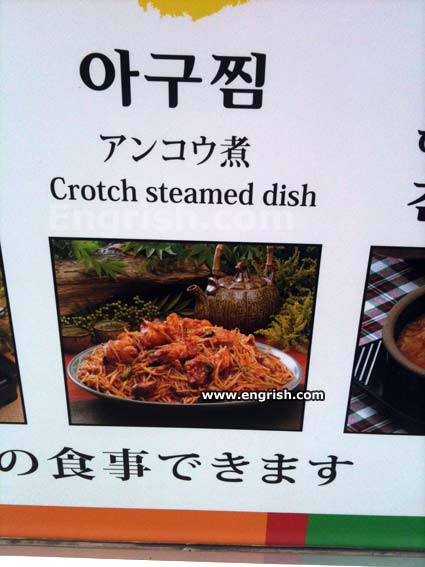 「アンコウ煮」
「アンコウに」
"Anglerfish stew"
(I'm guessing they thought it meant Conch instead of Anglerfish, and then mixed up the word with crotch. I believe this was taken at a Korean restaurant in Japan, not that it's relevant.)