As you continue studying Japanese or just walk around Japan, you'll notice broken English (Engrish) printed on things like signs or shirts certainly isn't hard to spot.  I know it might not be the politest thing to laugh at, especially if there is also Japanese text with it so you could see where the mistranslation stemmed from– but that really doesn't make it any less hilarious, though this is coming from an adult who still laughs at the occasional fart joke.
Some of the mistranslations come from the L and R difference, (where they are commonly mixed up), and others are just poorly translated into English from Japanese.
I'm absolutely not promoting making fun of someone's attempt at speaking another language, but these things are massively printed or meant to be massively seen, and at that point is no longer pointing the finger directly at someone… or at least that's how I justify it.
Here are examples of some Engrish you might spot in Japan.
---
The shoes which took off this place!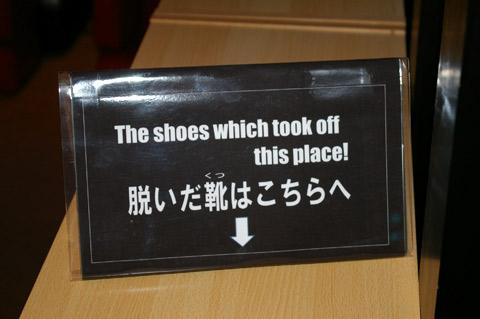 「脱いだ靴はこちらへ」
「ぬいだくつはこちらへ」
Please put your shoes here
Lit: As for shoes (which have been / you've) removed, (place them) over here
---
Rocking Elmo: Crap Your Hands!!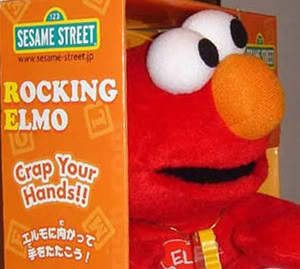 「エルモに向かって手をたたこう!」
「エルモにむかっててをたたこう!」
Face Elmo and clap your hands!
---
OMG, it's a magical sign!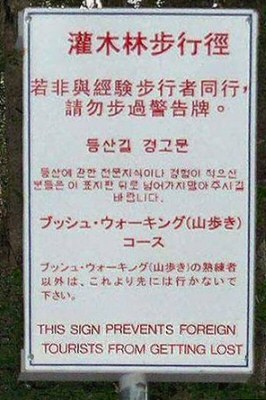 「ブッシュ・ウォーキング(山歩き)の熟練者以外は、これより先には行かないで下さい。」
「ブッシュ・ウォーキング(やまあるき) のじゅくれんしゃいがいは、これよりさきにはいかないでください。」
Do not proceed past this point unless you are an experienced hiker.
---
Please be careful to traffic.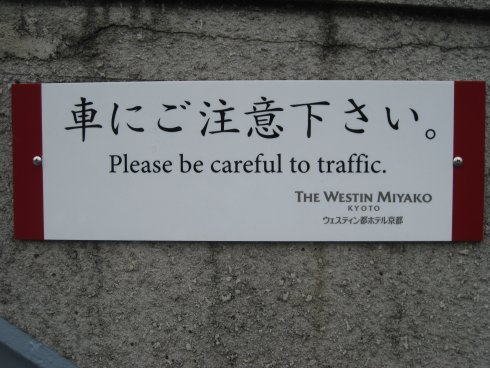 「車にご注意ください。」
「くるまにごちゅういください。」
(Please be aware of traffic).
lit: Please take notice of cars
Please use a toilet finely.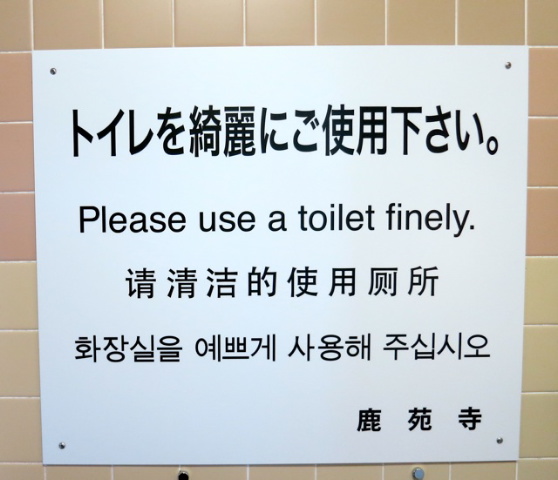 「トイレを綺麗にご使用下さい。」
Please keep the bathroom clean.
lit: Please use the toilet finely/cleanly.
 OK, Yoda.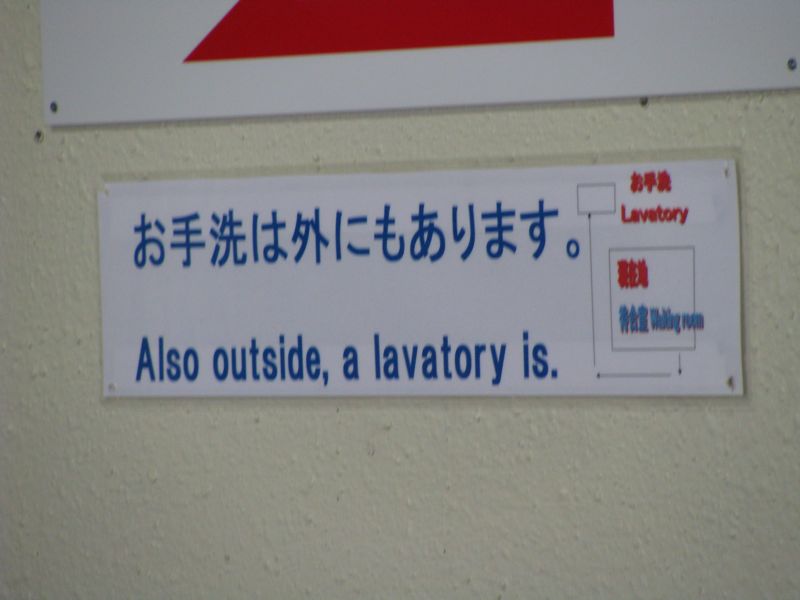 「お手洗は外にもあります。」
「おてあらいはそとにもあります。」
There is also a bathroom outside.
---
For restrooms, go back toward your behind.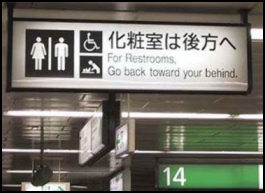 「化粧室は後方へ」
「けしょうしつはこうほうへ」
Restrooms are towards the back
---
Eww.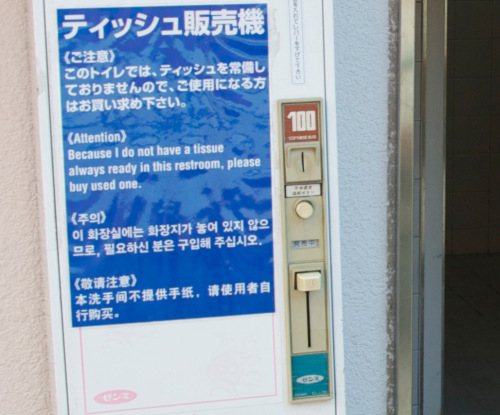 「このトイレでは、ティッシュを常備しておりませんので、ご使用になる方はお買い求め下さい。」
「このトイレでは、ティッシュをじょうびしておりませんので、ごしようになるかたはおかいもとめください。」
This toilet does not always have toilet paper, so please buy some for you to use.
---
Religion free DVD player.
(Region free).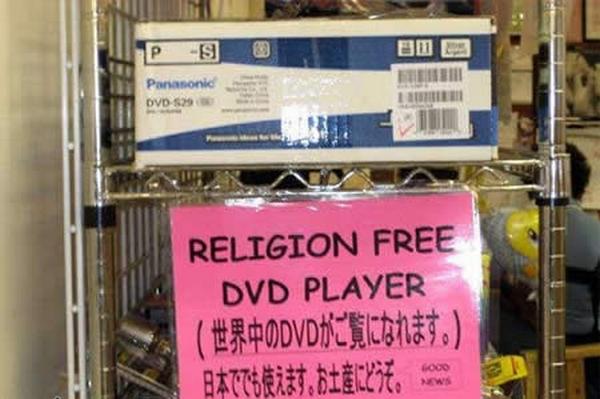 「世界中のDVDがご覧になれます。日本ででも使えます。お土産にどうぞ」
「せかいじゅうのDVDがごらんになれます。にほんででもつかえます。 おみやげにどうぞ」
Watch DVDs from all over the world, even in Japan. Makes a great gift!
---
Do not dumb here.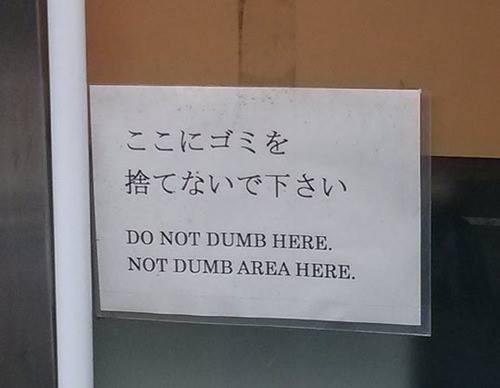 「ここにゴミを捨てないで下さい」
Don't dump your trash here.
lit: Please do not discard your trash here
---
Concerned except for the people, prohibition of admittance.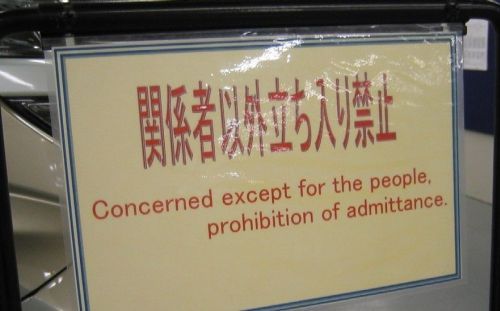 「関係者以外立ち入り禁止」
Authorized Personnel Only
lit: Entry Forbidden, Except for Authorized Personnel / Person(s) concerned.
---
Zombie juice bar?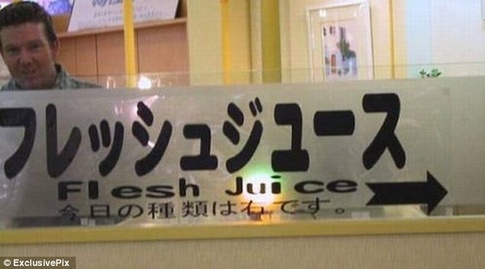 「フレッシュジュース 今日の種類は右です。」
Fresh juice: Today's variety is to the right.