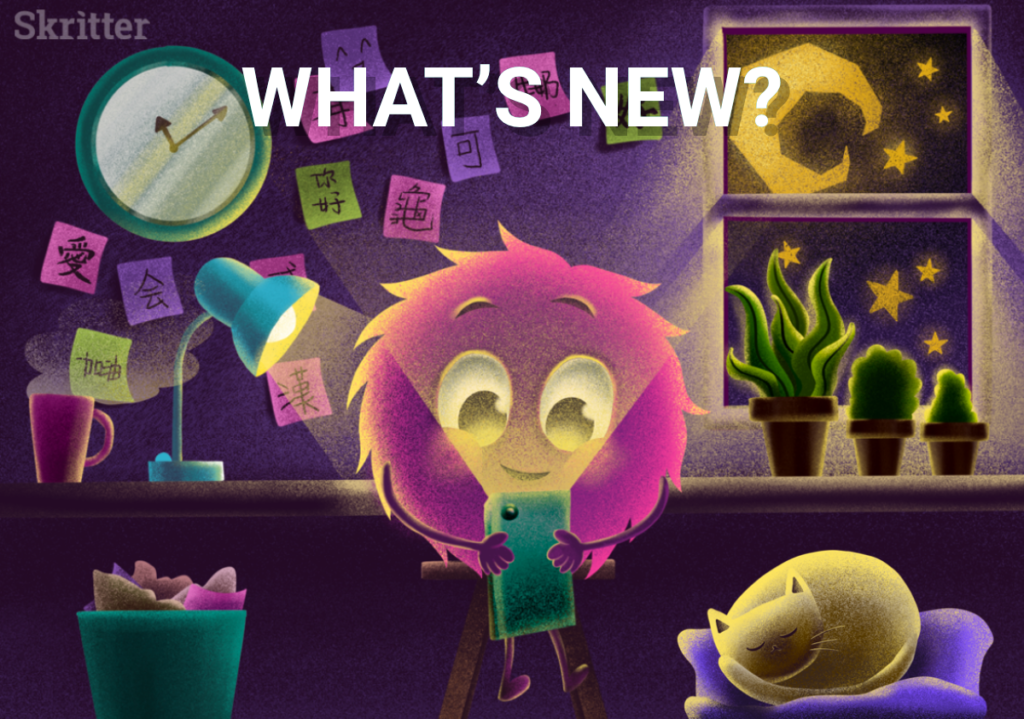 We hope everyone is staying safe and healthy. This week we're rolling out Skritter Mobile 3.4.0 on Android and iOS. Learn about the top three things included in this update below, and what we're working on next.
For a full list of all of the improvements and bug fixes, be sure to check out our full release notes.
A brand new info screen
Accelerate your learning with the brand new info screen. Font size has been increased to make things easier to read. We've improved the mnemonic and definition editing experience, and you can drill into contained characters within words to learn more about their composition, write custom mnemonics, and more!
Additionally, you can now easily submit corrections for any issues character/word-level issues you might find in the app so we can fix them for you and everyone else!
Extra hints while you study
Drawing a blank on some of the cards? Hints can help! Now you can see example sentences and mnemonics directly from the study cards. Just swipe right or left on the top part of any card to display these hints. In addition to showing you hints, we've also added a bunch of "popular mnemonics" that have been created by users in the Skritter community over the years. These should look familiar to anyone who's used the Skritter Chinese/ Skritter Japanese iOS apps, but these are brand new to Android!
The mnemonics displayed will depend on what card you're on. When studying writing or tone cards (Chinese only) we'll show you the character-level mnemonic, and on definition and reading cards you'll see the word-level mnemonic.

Did you know? You can create your own personal mnemonics by going to the info panel and tapping the edit pencil on the top-right of the screen!
Challenge yourself with a new writing mode
Looking for the ultimate challenge? Check out "rawest squigs" for a pen & paper writing experience. This writing mode has no hints and no automatic grading. Once you're done writing your character you can check your answer and give yourself a grade. Perfect for preparing for classroom quizzes, or anyone looking to truly master Chinese/Japanese handwriting. Access "rawest squigs" from the Study Settings screen, or from the Quick Settings drawer from any activity. Good luck!
Note: "Rawest Squigs" is a working title. If you have any ideas of what to call this new writing mode, please be sure to drop us an email at team@skritter.com!
---
What's next?
We'll continue to fix bugs and push patch updates, but we're taking some time off of mobile app development this month to focus on migrating to Stripe's subscription API for all of our website billing (note: Stripe is one of the best in the industry, and they already handle Skritter credit card transactions).
There are lots of benefits for making the switch, not the least of which is being able to run sales (and improve coupon codes) and tons more. It's not exactly glamorous work, but it has to be done, and we can't wait to finish it up so we can get back to making Skritter even better!
As always, thanks for your continued support of Skritter, and stay tuned for more updates.
Happy studying!
-The Skritter Team
---
Download the Skritter Apps Today!
Skritter's new mobile apps feature three study modes, thousands of decks, in-app videos, and a brand-new 100% free guest experience. What are you waiting for, download it today!