I have taught Chinese for almost a decade now and have learnt Chinese myself a few years longer. Some of my insights are turned it into post on this blog, some make it into the apps, but a majority end up as articles on Hacking Chinese, where I've published more than 400 articles about learning and teaching Mandarin over the years.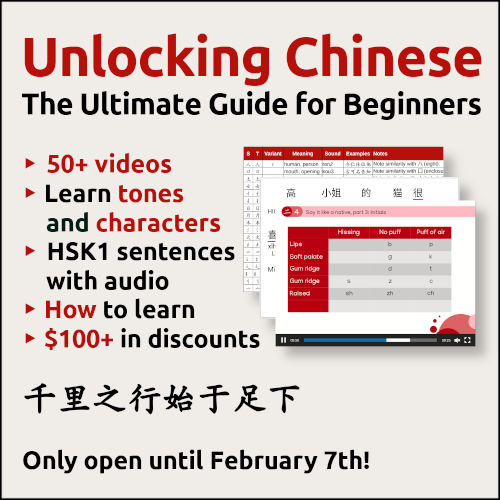 While I have taught (and still teach) more advanced levels, my heart has always remained with beginners. Learning tones, characters and grammar is not easy even at the best of times, but the low quality of teaching materials and language education certainly doesn't make it easier. Most of the articles I've written over the years are based on things that confused me or that I know confuse others.
Based on my own experience, both direct from learning the language myself and indirect from surveying students, I have put together a course that teaches you the basics of listening, speaking, reading and writing, with a special emphasis on how to learn these things effectively, as well as extra focus on pronunciation (including tones) and characters. I present:
Unlocking Chinese: The Ultimate Guide for Beginners
50+ video episodes in 5 sections. Each episode is short and to the point, enabling you to find what you're looking for and stay focused. The episodes are clearly arranged into a program covering all aspects of learning Chinese.
Sentence pack with audio. These sentences cover the most basic 150 words in Chinese, both spoken and written. You can study them in a purpose-built sentence tool or in your own way. Both simplified and traditional Chinese are included.
Pronunciation resources. One of the most important things to get right from the start is pronunciation. Therefore, the course contains several pronunciation resources, giving you the means and the method to make sure you get it right.
Community forum. Learning is social, so to get the most out of your learning, discuss your progress, insights or questions with other people enrolled in the course.
Discounts on apps and services. While you can get far with free resources, there are some cases where buying the best tools makes sense. The course comes with discounts for some of these.
The course enrollment period is from January 28th to February 7th, 2020, but you can study the material at your own pace after enrolling. For a full description of the course, please follow this link:
Unlocking Chinese: The Ultimate Guide for Beginners
10% off for Skritter users
If you're using Skritter, which seems likely if you're reading this, you can get 10% off the course price by entering SKRITTER at checkout. This offer expires at the end of the enrollment period at midnight February 7th, 2020.
Skritter integration
The course also comes with Skritter integration, meaning that you can easily access decks containing characters and words from Unlocking Chinese directly in your app. This is particularly helpful for learning the basics of Chinese characters, of course, but can also be used to drill tones, definitions and so on.