Can you believe it? In just a few weeks, we'll be starting a new year and a new decade! We hope that the end of the year finds you filled with joy, good health, and a strong sense of accomplishment over just how much Chinese and Japanese you've learned.
Before we start gearing up and setting goals for 2020, let's take a moment to reflect back on what's been happening in the Skritter-Verse throughout 2019!
Brand new mobile apps
This year marked the release of the brand new Skritter: Write Japanese and Skritter: Write Chinese apps on iOS, along with a limited release update to Skritter Chinese and Skritter Japanese on Android (with full access to the public beta).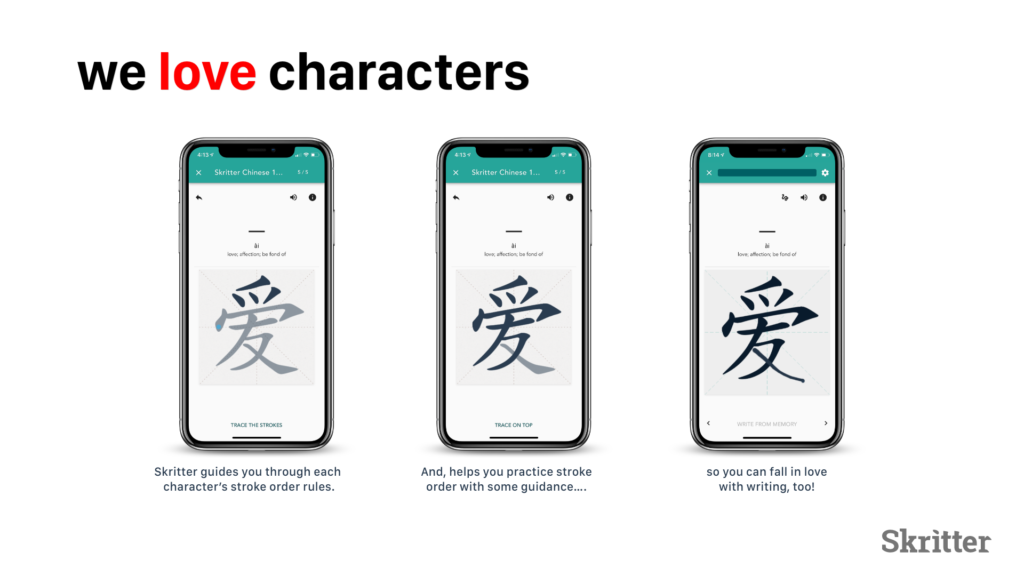 In addition to a more modern and colorful look and feel, these apps boast a brand-new free guest experience, three distinct study modes (Learn, Test, Review), in-app videos, tons of new level-appropriate example sentences, and so much more!
The apps have come a long way this year, and we couldn't have done any of it without the help of the entire community. A huge thanks to everyone involved in this process— your bug reports, forum posts, emails, beta reviews, and patience have been critical in helping these apps get to where they are today. Find our full release notes and upcoming features on the Skritter Docs page here, and expect a lot more updates to the apps in 2020!
First encounters and a growing family
It is hard to believe it, but January 2019 was the first time that some of Team Skritter got to meet each other in person! Remote work might seem like a dream, but you never know what you're missing until you get to spend time together!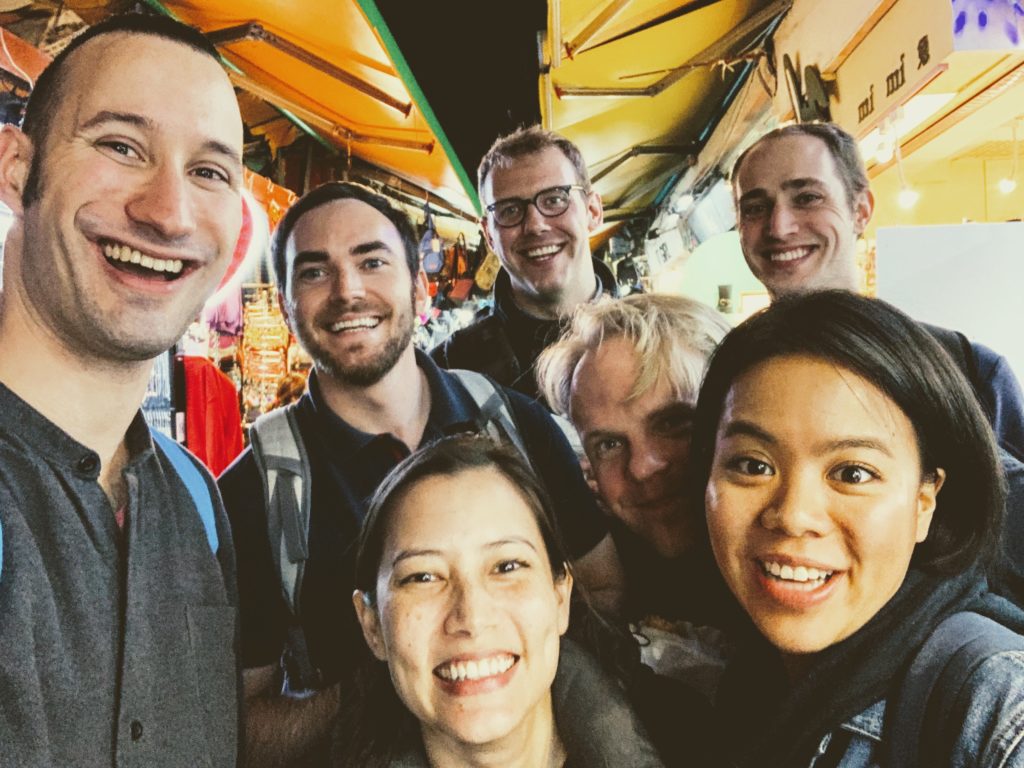 Besides talking about short-term and long-term goals for Skritter (and lots and lots of eating), we even managed to squeeze in some time in the studio time to shoot videos on Social Media and Star Wars, which were an absolute blast to record!
This year we also welcomed a new member to the Skritter family—Iona! She officially joined the Skritter team this summer as a content creator and our resident graphic designer. We hope you've been enjoying everything she's working on (see below for some examples). In case you haven't guessed it already, Iona has taken over Fiona's role as a video host. We were incredibly fortunate to work with Fiona over the past two years, and we're glad that she recommended her sister to help fill in the gap in her absence. You can still hear her voice in the mobile apps, and you can certainly count on her popping up in future videos here and there, too!
Fresh #hashtags
This year kicked off two new exciting series' on our social media channels—#chengyutuesdays and #SkritterChineseTips!
Our #chengyutuesdays posts appear each (you guessed it!) Tuesday, and feature a new idiom with an example sentence, and also some interesting cultural tidbits. Each one is hand-drawn by Iona and are delightful if we do say so ourselves!
We're currently having lots of fun with animal idioms, but we'll be expanding out into other areas in the future. You can expect these idioms (and beautiful images) to appear in a Skritter decklist in the future, and we might even make a book out of them, too. Oh, the possibilities!
Who doesn't love a good 成语?Learn a new one every week on social media!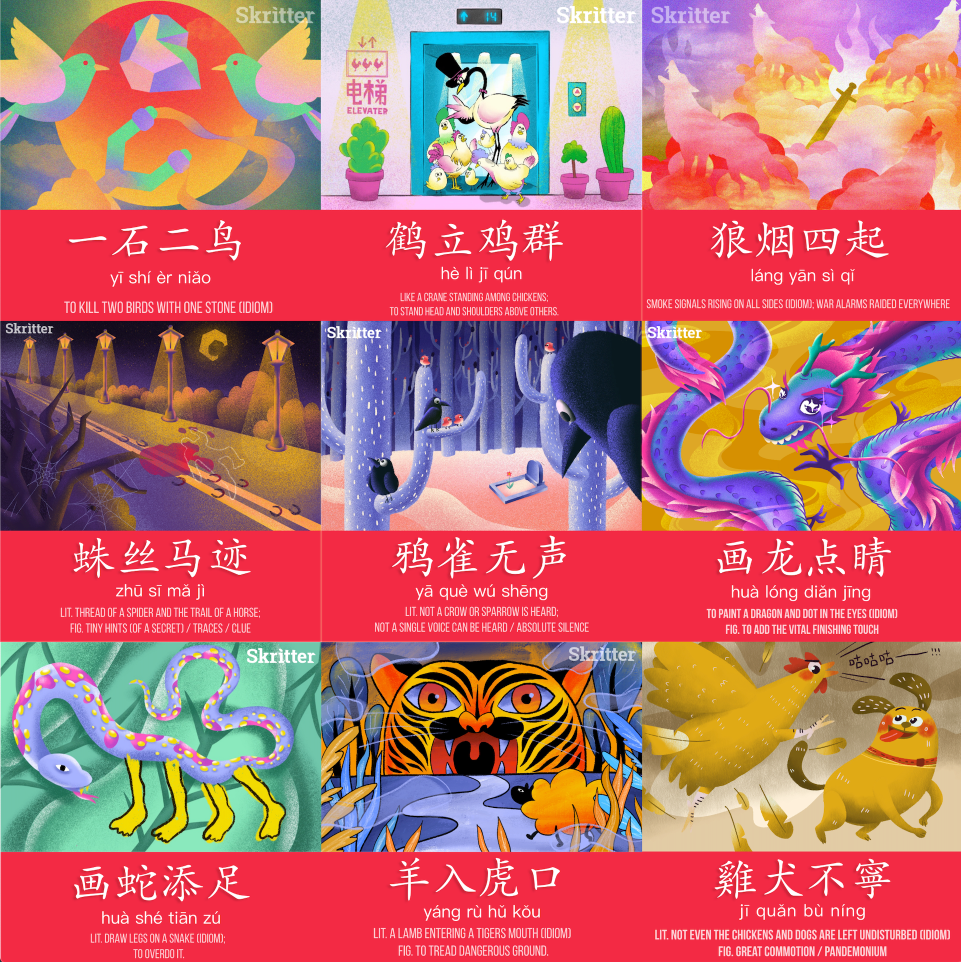 The second new series is #SkritterChineseTips, which digs deeper into the nuances of Chinese learning and the Chinese language. These gallery posts go into tons of details. They're full of examples, hints, tips, and tricks to help you learn Chinese even easier! You can find new Skritter Chinese Tips every Wednesday over on Instagram!
Have a question about Chinese or Chinese learning? Be sure to let us know in the comments, and we'll try and answer them for you. And who knows, we might even turn it into a gallery post if we need to!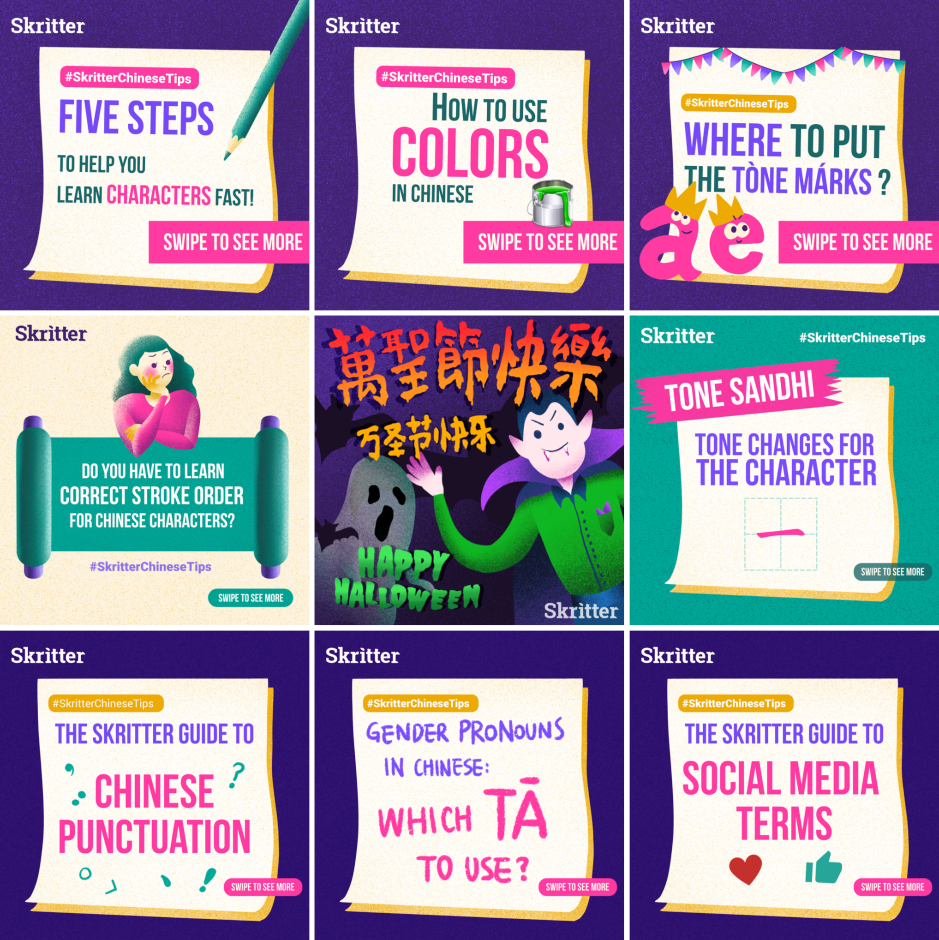 Insane study stats
2019 turned out to be another crazy year of study progress in the Skritter-Verse, and it's all thanks to you. But, don't take our word for it, check out these stats from 2019. Seriously, you're one passionate bunch, and we love you all for it!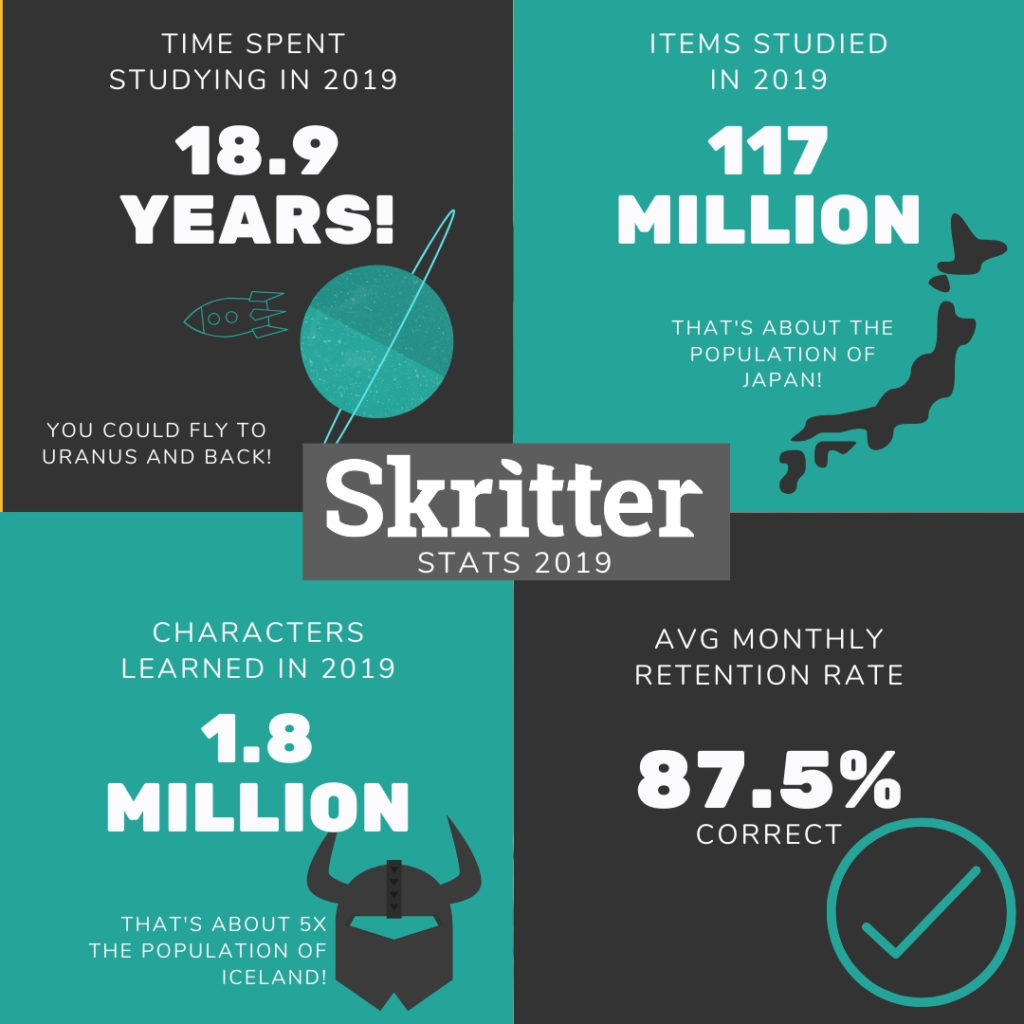 More. More. More!
Primarily, 2019 was a year of more, which seems like the perfect way to end a decade if you ask us. More audio recordings. More example sentences. More study decks. More Instagram posts. More YouTube videos. More blog posts. More bug fixes. More app updates… you get the idea. Anyway, you can expect more of that next year, too.
Thank you again to all of you for your support along the way. Here's to another year and another decade of more studying and learning adventures. As always, stay tuned!
Happy holidays, and happy Skrittering!
-The Skritter Team