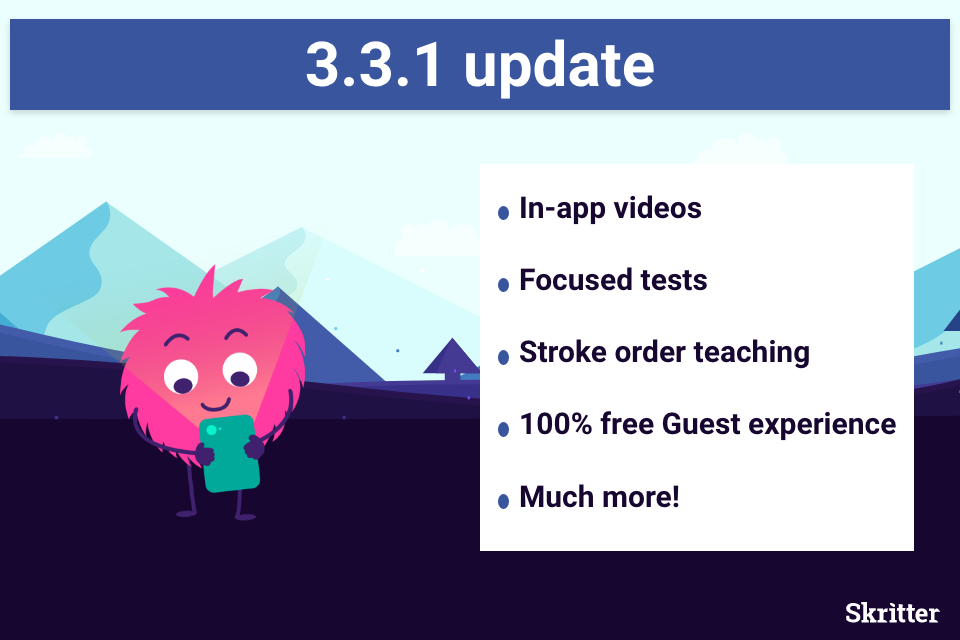 The new Chinese mobile apps are finally here on iOS and Android! We're very excited to announce that the new Skritter mobile app is now available for download on the App Store and in limited release on the Google Play store!

*3.3.1 on Android is going out to 10% of Skritter Chinese users and new visitors, and we'll be increasing the numbers over the coming days and weeks
What's New?
A brand-new 100% free Guest experience with free study decks that feature images and complementary study videos
Three study modes (Learn, Test, Review)
Stroke order teaching mode (learn why it's important here.)
HSK 1, HSK 2, HSK 3, HSK 4 level example sentences with audio
Ink-like writing canvas with study streak effects
Sign-up for a 7-day free trial for full app access
Brand new (colorful) interface
Lots more!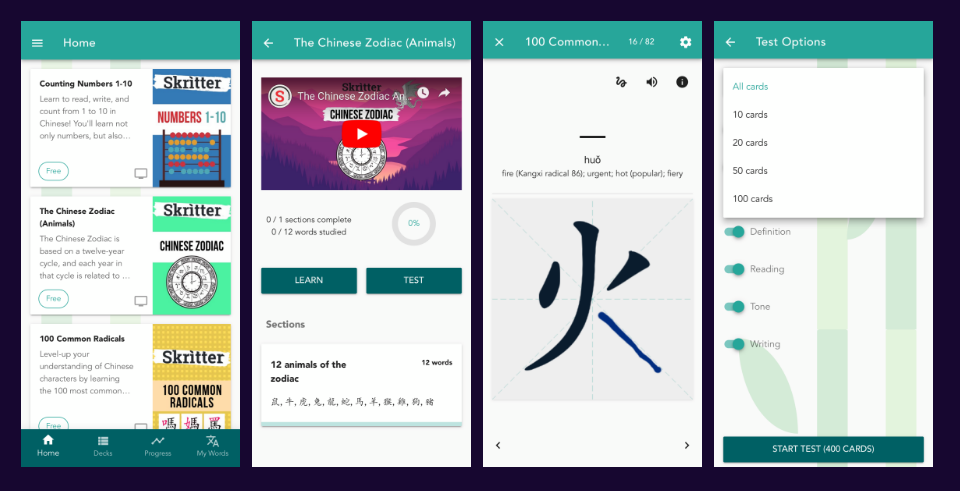 Does it work with my current account?
YES! While the new Chinese mobile app is a bit of a departure from the Skritter website, and previous mobile applications, you don't need to create a new account to try it out. It will work with your current account even if you signed up on our website or on the Skritter Chinese iOS app. Even if you're not on an active subscription, there is something for everyone (you'll still be able to review previously learned vocabulary, take tests, and study from free decks!)
What's next?
There are so many more things to talk about for the new Chinese mobile app, and so much more planned for the coming days, weeks, and months ahead. Expect lots of general updates and bug fixes as we continue to improve the experience.

We're working on releasing new videos (both in-app and on our YouTube channel), and we've got lots more hand-crafted Skritter decks in progress so be sure to check back regularly and stay tuned.
Last but not least!
A huge thank you to everyone who has been a beta tester during this process! Your feedback, bug reports, and words of encouragement over the last 269 builds (holy cow!) have kept us motivated and focused. There is still work to do, and we look forward to continuing to work with all of you to build the ultimate Chinese study tool!

学习愉快/學習愉快!

-The Skritter Team

P.S. Studying Japanese? First, amazing you've read this far! Second, check out the Skritter: Write Japanese app on iOS and the Skritter Japanese app on Android!