We have so many exciting things to announce– new updates, new projects, and new Skritter team members to introduce!
Website update (2.3.9)
Add Chinese example sentences with audio for HSK 1-3 lists
Improve review order and spacing to minimize "study loops" and feel better
Increase auto-add rate on new accounts and accounts with very little to study to decrease overstudying of items when possible
Fix race condition that caused items fetching spinner on study screen to spin indefinitely
Persist daily goal settings to the server so they are consistent between logins (and soon devices on the upcoming beta)
We realize the review order still might not be perfect for all accounts, and that's part of the tweaking and improvement on our formula that we plan to continue going forward. But we felt the improvements we made were enough of a step forward to eliminate many of the frustrations you told us about and that we'd experienced ourselves. From here on out, we have plans on how to tweak related items and how they're presented, and how to keep items steadily trickling in for those of you with auto-adding on.
Example Sentences & Instagram
One of the biggest updates in 2.3.9 is the rollout Skritter's Chinese example sentences. All words included in HSK 1, 2, & 3 now have level appropriate sentences, and audio support! You don't have to be studying the HSK lists, but if a word was included in them, you'll now see our sentence with an audio button in the app. They're already live on the website, and will be included in the upcoming Skritter Mobile (beta) release.
We will be deploying additional sentences for HSK 4, 5, & 6 lists in batches, so stay tuned for more updates over the coming months. Once we're done with those we'll start filling in the gaps on critical vocabulary we might have missed along the way. Japanese students are getting some love, too!
Last month we also promised our Japanese users new JLPT 5 sentences with audio. Unfortunately we're still waiting on some audio recordings of our sentences to finish up some post production so they aren't live yet, but we will do an update out of the release cycle once we do have them.
Here's a preview of what it looks like on the study page. You can tap the shiny new audio icon next to the sentence to listen to the sentence audio!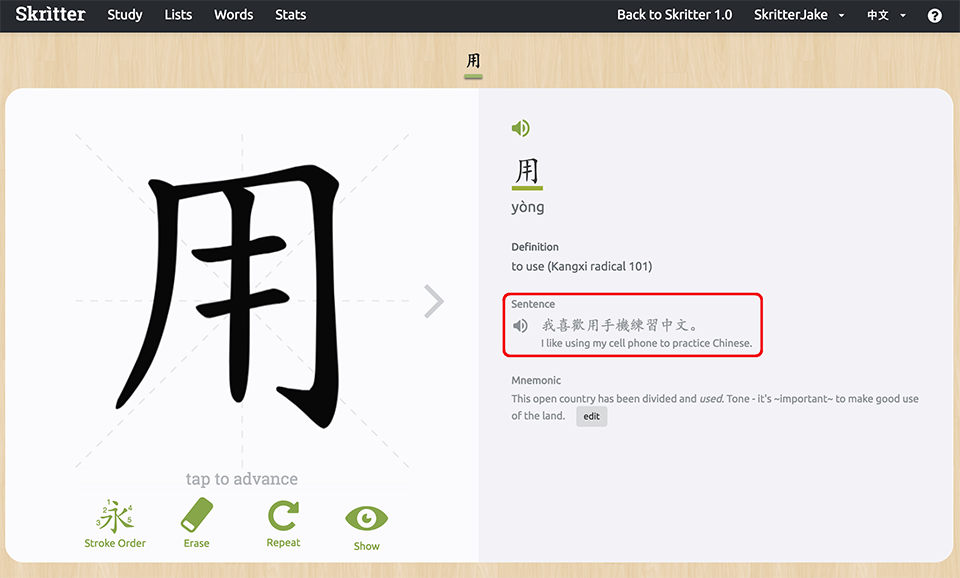 — Follow us on Instagram!
Skritter is on Instagram! We've cooked up some cool HSK flashcards to go along with these sentences for social media and are scheduling one a day until we run out of them (don't worry, we wont 😉 ). Our first month of content will be posted on Instagram, Twitter, and Facebook. After that they premier on Instagram, where (we think) they look amazing!
New team members!
Today, we are pleased to officially announce some new members on the Skritter Team! Maria Li-Ya Mar, Fiona Tian, and Gwilym James! You might have heard of Fiona and Gwilym, formerly of ChinesePod and MandarinMadeEZ. The three of them will be helping us bring some fresh new content to Skritter users and fans!
— What are they working on?
Lots of stuff! We'll be releasing weekly videos on our new YouTube channel, and they're all involved in our high-quality example sentence project on the Chinese side. They're also working on bringing new content lists to Skritter and some super secret stuff we can't talk about just yet 🤐
Check out the first video, amazing work team! We'd really appreciate it if you can like, subscribe, and share with your friends!
How We Met (Maria)
Maria and I first met at UW-Milwaukee where she was a P.h.D candidate in Linguistics and a teacher in the Chinese program. Although Maria was never my Chinese teacher, I had the honor of co-teaching Chinese 101 with her, and sharing an office with her and the rest of the amazing UW-Milwaukee teachers (including my very first Chinese teacher, Andrew Olson) in Fall 2013!
Maria holds a Ph.D. in Linguistics, specializing in second language acquisition and phonetics/tonal learning. Maria considers herself a descriptive linguist, and has the ultimate goal of helping the society move towards a truly diverse humanity through language education and an objective perspective of all varieties of languages.
We stayed in touch during my routine visits to UW-Milwaukee and when she relocated to Houston, Texas I invited her to start working for Skritter part-time on some projects when she isn't teaching Yoga or teaching Chinese to the Houston Police Department (warning: link contains lots of Chinese!). We're so glad to have her on the Skritter team!

Jake (right) and Maria (second from the right) with UW-Milwaukee coworkers Vivian and Andy for a silly selfie!
How We Met (Gwilym and Fiona)
I first met Gwilym and Fiona back in 2013 at a Hacking Chinese meet-up, hosted by our very own Olle Linge.
Around this time, I was finishing up my Master's course work in Teaching Chinese as a Second Language and asked Gwilym to attend my final mock teaching session. Shortly after, I moved back to the States, but we kept in touch on social media. It was not until 2016 that we met up again, this time with the rest of the team, including our two developers, Michael and Josh, during one of our team get-togethers in Taipei.
We had an awesome day together, hiking up Elephant Mountain in the humid summer heat followed by a sumptuous hot fry (熱炒) meal in central Taipei. We had to part ways shortly after, but I remember thinking it would be so cool to collaborate with them one day.
Having heard that they had decided to leave ChinesePod in late 2017, we were excited to see what they had planned next. It just so happened that we were looking to expand our team, and this is when Gwilym reached out to me, and we got talking about ways in which we could work together.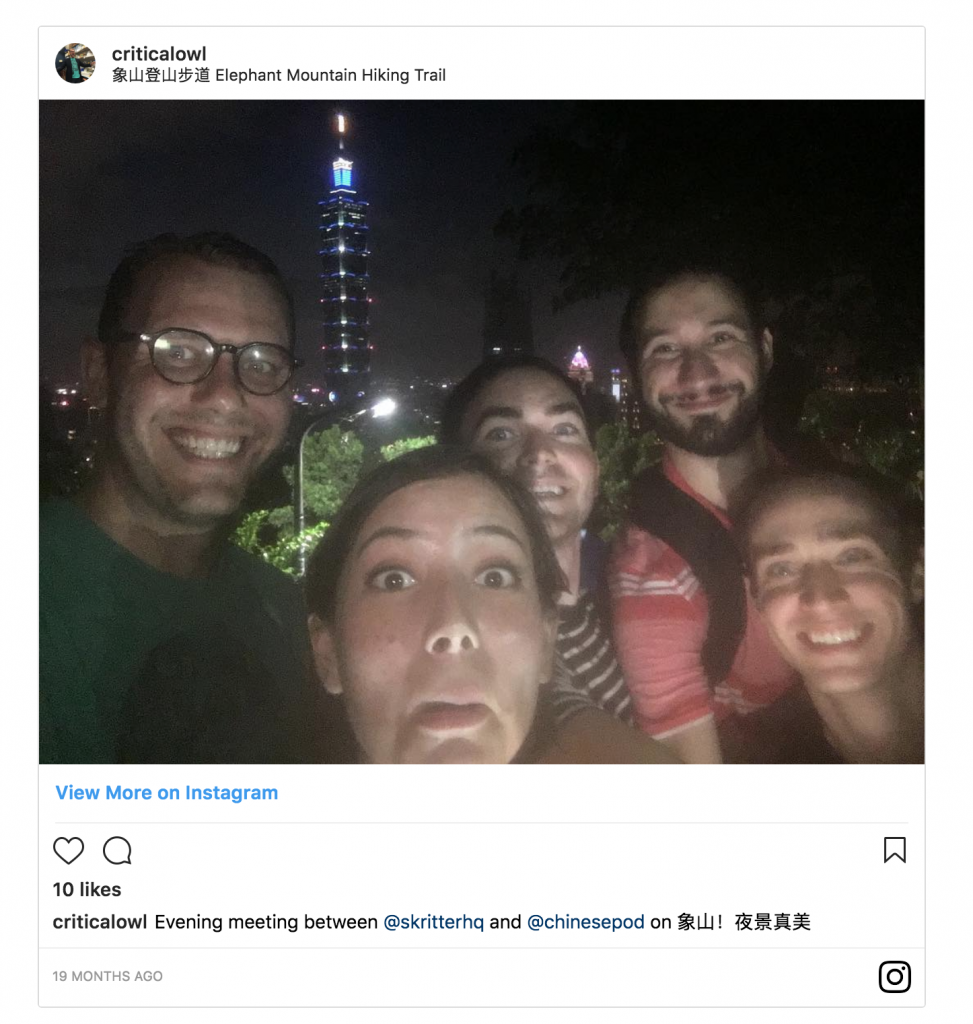 (Jake clearly needs a selfie stick)
Jake: Now, over to you guys for a brief introduction.
Dr. Maria: Thanks for the intro! As much as I love teaching Mandarin, I had a hard time teaching writing and helping students master writing characters. Character writing has rarely been the focus in a Chinese classroom. I mean, didn't all Chinese speakers learn it the traditional way, like write each 30 times over and over and over… !? Not until Jake introduced Skritter to us at UW-Milwaukee! Jake was always the "go-to" guy when it came to online resources of learning; podcasts, YouTube channels and mobile apps. I've been having fun working with the team and nerding out together about some geeky stuff and the technological aspect of Chinese learning. It 's been such a fun way to contribute my insights and experiences of 7 years of teaching and also to learn about how technology can help students enjoy the journey of learning the language and culture.
Fiona: Thank you for the opportunity to work with you guys. I've been a big fan of Skritter for a long time. One of my very first YouTube videos for MandarinMadeEZ was demonstrating the benefits of spaced repetition and promoting Skritter as an excellent Chinese-learning resource. I have long appreciated Skritter's focus on teaching people how to write Chinese characters, which is an often overlooked skill but I strongly believe that it is key to properly learning and appreciating the Mandarin Chinese language.
I'm excited to be working with the team on some upcoming video projects and providing some insights from my experience of working in the Mandarin-learning field.
Gwilym: I began using Skritter in 2013 when I first enrolled in Chinese class and was given 24 hours to memorize around 200 characters to get into the appropriate class for my (speaking) level. Being a keen lifehacker, I looked up ways to quickly learn Chinese writing and stumbled upon Skritter from many positive reviews on Chinese forums. What amazed me was the number of textbooks already in the app, so all I had to do was look up my one and study chapter by chapter. I soon became addicted to using the iOS app and would spend my 1-hour commute to class frantically scribbling away on my iPhone to the baffled looks of my fellow commuters who often asked what app I was using!
I'm looking forward to working with such a passionate and welcoming team and bringing some new content and ideas to Skritter.
---
Jake: That's all for now. Stay tuned for more updates from us soon, and be on the lookout for our new Skritter Mobile beta in the near future. It's coming… and it's awesome!