Tongue twisters, or 早口言葉 (はやぐちことば), translating literally to "fast mouth words", are quite a lot of fun in Japanese and also a great way to practice speaking speed. There are a lot of common 早口 that most Japanese speakers know, much like how most English speakers are familiar with "Sally sold seashells at the sea shore", or "Peter Piper picked a peck of pickled peppers." Here are some tongue twisters, along with their translations: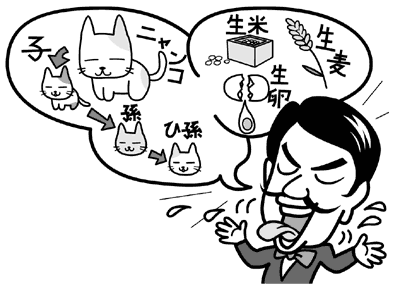 生麦・生米・生卵
なまむぎ・なまごめ・なまたまご
namamugi namagome namatamago.
Raw wheat, raw rice, raw egg.
坊主は屏風に上手に坊主の絵を描いた。
ぼうずはびょうぶにじょうずにぼうずのえをかいた。
bouzu wa byoubu ni jouzu ni bouzu no e wo kaita.
A monk skillfully painted a picture of a monk on a folding screen.
隣の客はよく柿食う客だ。
となりのきゃくはよくかきくうきゃくだ。
tonari no kyaku wa yoku kaki kuu kyaku da.
The guest next door is a guest who often eats persimmon.
バス・ガス・爆発。
バス・ガス・ばくはつ。
basu gasu bakuhatsu.
Bus, gas, explosion.
赤パジャマ青パジャマ黄パジャマ。
あかパジャマあおパジャマきぱじゃま。
akapajama aopajama kipajama.
Red pajamas, blue pajamas, yellow pajamas.
李も桃も桃のうち。
すもももももももものうち。
sumomo mo momo mo momo no uchi.
Both plums and peaches are a member of the peach family.
貴社の記者は汽車で帰社した。
きしゃのきしゃはきしゃできしゃした。
kisha no kisha wa kisha de kisha shita.
The reporter from your company returned back to the office via steam train.
にゃんこ、子にゃんこ、孫にゃんこ、ひ孫にゃんこ。
にゃんこ、こにゃんこ、まごにゃんこ、ひまごにゃんこ。
nyanko, konyanko, magonyanko, himagonyanko.
Kitty, kitten, grand-kitten, great-grand kitten.
Got any more? Be sure to share them in the comments!