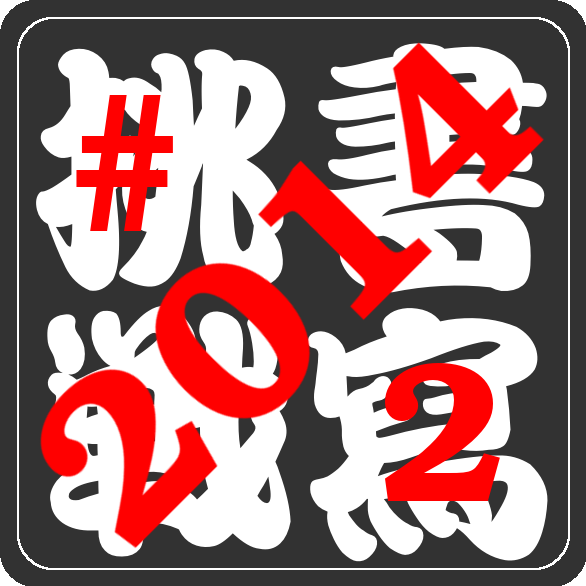 Establishing good habits is a key ingredient in any successful learning strategy. It's not that hard to focus on learning something specific for a week or two, the real difficulty lies in long-term stamina . Learning characters and words in a foreign language such as Chinese or Japanese is of course a good example of this; learning a few hundred words in a few weeks is not that difficult, but learning thousands of them and remembering most is harder. Using Skritter is a good start, but personally, I like community-driven challenges that help me focus on particular goals for a limited amount of time.
This is why I launched the sensible character learning challenge last month. The idea is simple: set a goal for your character learning that you feel is reasonable to achieve before the summer (defined as June 30th in this case), split that goal into several milestones, commit in public to your goal and feel the power of learning alongside one hundred other participants. If you want to know more about the basics of the challenge, Jake wrote a post about it
here
, but you can also read the post that officially launched the challenge
here
. This is also where you join the challenge.
 Milestone #2: April 30th (today)
This post marks the second milestone in the challenge. If you've stayed focused on your goal since the launch, I'm impressed! It's easy to commit to something for a few weeks, but it's much harder to stay committed for more than a month. If you've fallen seriously behind your schedule, don't hesitate to revise your goals and give it another try!
More importantly, if you haven't joined the challenge yet, it's not too late! You can accomplish a lot in the two remaining months and you can also win some fine prizes, including a free extension to your current Skritter subscription.
Prizes for milestone #2
Here are the prizes available for the second milestone:
Skritter extension – One week free extension will be awarded to all active participants, If you want your free extension, you need to have been active in the challenge, all you need to do is join this group and you should get your extension (provided that you have been active, of course, meaning a bare minimum of joining the challenge and posting a progress update for this milestone).
Hanzi WallChart posters – Two sets worth roughly $50 will be distributed randomly among active participants. These posters aren't only informative, they look cool too! You can see the posters here.
Glossika Chinese products – Glossika offers a range of products for Chinese learners and one participant in this challenge will receive one product of his or her choice for free. You can find more information about both Glossika and their products on the official website.
So, how are the winners determined? Randomly, but weighted for activity in the challenge (basically anything I have a chance to notice, including posts here, on Hacking Chinese, social media and so on), with a particular focus on progress updates. I will announce the winners here on Sunday, so you have a few days to post your updates. Note that only people who have officially joined the challenge are eligible. Also note that people who join the challenge now will have to wait until the next milestone (May 31st) before becoming eligible.
Your progress update
There's no fixed template, just write whatever you want to write in any way you see fit, but here are some examples:
Have you reached your goal for the second milestone?
What (if anything) are you going to change?
What have you learnt by participating in the challenge?
Note that activity in the challenge is completely unrelated to whether or not you have succeeded! Failing to reach your goal, thinking about why you failed and what you should do about it is perfectly acceptable.
My progress update
I overshot my goal by quite a lot last time, mostly because I misjudged the number of characters I had forgotten, so I upped the ante a bit this time and went for something much more ambitious (this is copied from my update for milestone #1):
Current status (April 8th): 4583
Milestone #2 (April 30th): +300 (4883 total)
Milestone #3 (May 31st): +400 (5283 total)
End of challenge (June 30th): +492 (5775 total)
Let's look at the numbers first. I was supposed to learn 300 new characters for a total of 4883. According to Skritter, I currently know 4933 characters, so I'm roughly 50 characters ahead of my goal. Yay! Also, since I have dealt with all my banned cards, this number actually reflects the number of characters I'm reviewing (banned cards count towards your total even if you don't review them, for some reason). Since I'm slightly ahead now, rather than relax this month, I will shift some 50 new characters to the last stage of the challenge instead. Just to make things as clear as possible, this is what I have in front of me:
Current status (April 30th): 4933
Milestone #3 (May 31st): +407 (5340 total)
End of challenge (June 30th): +435 (5775 total)
What have I learnt about learning and reviewing Chinese characters since last time, then? I'd like to highlight two things: the importance of not going on tilt and the necessity of horizontal vocabulary learning. I will write more about these concepts in future articles here on the Skritter blog, but for now I will just include a summary and a few links for those who want to read more right now..
Lesson #1: Don't go on tilt
First, for whatever reason, you sometimes will encounter characters that are very hard to learn. There are three things you can do:
Ignore the character or word (delete it)
Keep reviewing it even if it you keep forgetting it
Take decisive action and go to the root of the problem
Of these, solution one and three are both good. Solution two is really, really bad. If you keep forgetting a word, you need to deal with whatever is causing the problem, simply reviewing it more times might not help. Instead, either delete the character or word (if it doesn't seem important) or ban it. Then, next time you have some time and access to dictionaries, sentence resources and so on, look up the character or word you banned. Add some extra information, look up components, edit your mnemonic. If you don't deal decisively with these characters or words, they will multiply and slowly drain both energy and time. Read more here: Dealing with tricky vocabulary: Killing leeches. I have to confess that I have had characters that I have failed almost 100 times, what a horrible waste of time!
Lesson #2: Horizontal vocabulary learning
Second, horizontal vocabulary learning is essential. When you suspect that there are several similar characters that confuse you, look them up. It can be very hard to spot these problems, though, but being alert to your own reviewing errors is a good start. If you find yourself making the same mistake several times, you probably make that mistake for a reason, perhaps because you're confusing two characters without realising it. The problem is often painfully obvious once you see it, but might cause a lot of trouble before you do.
For instance, for a long time, I found it really hard to remember the order of the two components on the right of 踏. I sometimes got it wrong and put the 曰 on top of the 水, I sometimes got it right. This kept happening many times and I only figured out why once I realised that I were confusing two characters with (almost) identical meaning and exactly the same pronunciation: 踏 and 蹋 (both are read "tà"). No wonder I felt confused about the placement!
Another problem I figured out only recently is related to two rarer characters: 皺 and 縐. Again, both have the same pronunciation ("zhòu") and again, the meanings are at least related. I kept mixing up the placement of the 芻 (left/right) because of this, but this ceased to be a problem once I looked at both characters side by side.
What I want to say with all this is that when learning or reviewing characters, you have to realise that it's not only a matter of dealing with one single character or word, it's about integrating that knowledge in your larger web of knowledge about Chinese.
Stay tuned…
I will announce the winners on Sunday by updating this article. In the meantime, you can check this article about handwriting Chinese characters if you haven't already. Stay tuned!
…and the winners are
Hanzi WallChart posters: Oaht and Gerrityong (I have forwarded your info to the company)
Skritter free extensions: Everyone active is eligible, join this group on Skritter and tell me
Glossika learning Chinese product: Xiaokaka (I have forwarded your info to the company)