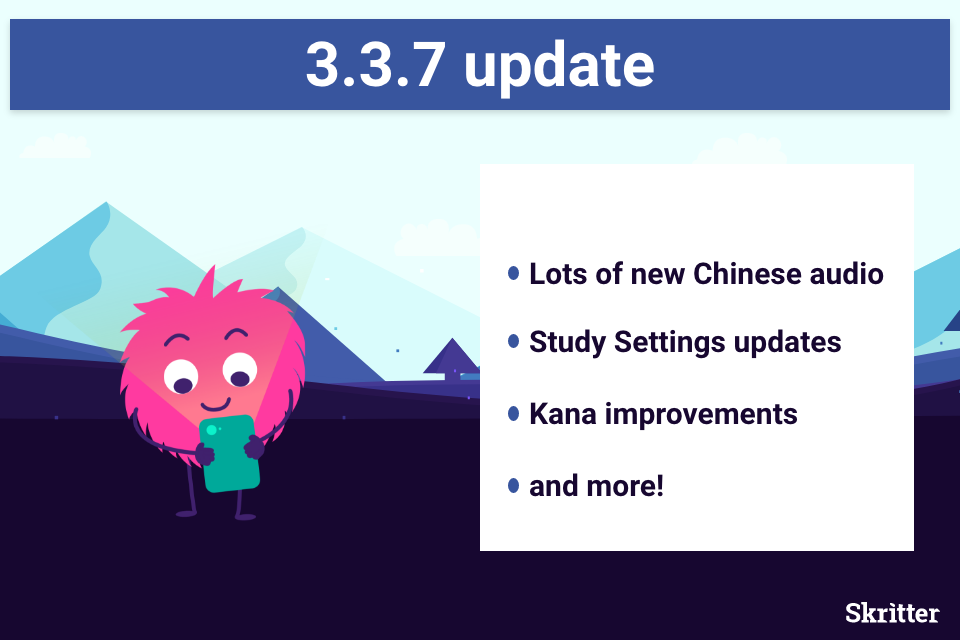 The latest Skritter Mobile app update (3.3.7 v300345) is out now and available for download on iOS and Android.
What's new?
Added new Chinese audio for all syllables and tone readings mapped to all Chinese characters in Skritter (learn more here)
Added the option to disable streak effects on non-basic writing canvas
Added the option to disable grading colors on writing canvas
Improved Study Settings sort order on Account Settings and Quick Settings screens
Improved positioning and tracing animations for kana on the basic writing canvas
Improved Zhuyin (bopomofo) font support, so tone marks are easier to read
Fixed an issue preventing items from being added to review and being marked as learned if added from decks with limited study parts selected
General bug fixes and improvements
What's next?
We're hard at work on app version 3.4.0, which is a more significant update with some awesome and exciting new features. Here are a few things to look forward to:
New vocab info screen to support contained character exploration, and more!
Popular mnemonics and personal mnemonic support study cards
Full-tone reading support on tone cards (for the traditional Chinese fans out there!)
and lots more!
Download the app today!
Have we mentioned that the Skritter mobile apps feature three study modes, in-app videos, and a brand-new 100% free guest experience?
As always, thanks for your continued support of Skritter, and stay tuned for more updates.
Happy studying!
-The Skritter Team