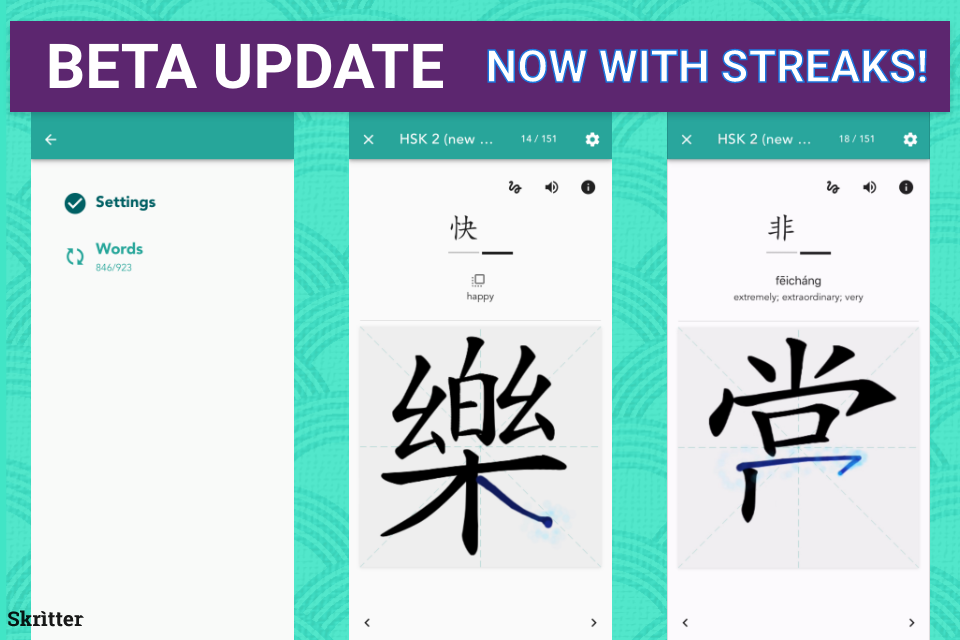 Summer is in full swing in the Northern Hemisphere, and we've been putting these endless summer days to good use working on and testing the latest Skritter: Write Chinese and Skritter: Write Japanese mobile beta updates!
New things to look for in the beta!
The main focus of this update was to reduce Home screen loading times, both when entering the application, and also when returning from a Review activity or inside of a deck. Once we wrapped that up, however, we decided to take things a bit further and continue improving deck loading in general. Moving forward, decks don't need to be reloaded every time you close and open the application… they're just on the app, and ready to be studied from at will!
In addition to these performance updates, we've also included a new canvas experience that we've been working on for a while, and now it is ready for all of you to check out and test! The "hi-fi writing" experience brings an ink-like feel to the canvas and also includes writing streak effects for Test and Review activities.
Can't see the video? Watch here.
In addition to these significant updates, we've also made lots of general bug fixes and improvements along the way, including:
Increased speed of initial account sync
Removed "Learning Complete" screen to provide a more streamlined study experience during Learn activities
Improved canvas size and scaling issues to keep canvas from getting super small on certain items
Improved audio handling on Tone cards
Fixed an issue preventing learning progress on some Japanese decks
Stuff we're working on next!
In addition to general bug fixes and improvements based on your feedback, here are the things we're looking forward to working on next:
Allow for deck editing and new deck creation
Add the ability to bulk-download all decks in "My Library"
Formatting updates for Japanese and Chinese card types
General bug fixes and improvements
As always, thanks for your continued support and encouragement during the beta process. Happy studying, and we look forward to your feedback!
Thanks!
-The Skritter Team
Not a beta tester yet? Join us today!
Speed-Writing HSK1