Understanding is important when learning a second language. If you don't understand what you listen to or read, you're less likely to benefit from it. Naturally, if the things you listen to are too easy, you're not challenging yourself and won't learn as quickly as you could have, but this is rarely a problem when learning Chinese.
The problem of finding suitable learning materials
Instead, the main problem for beginner and intermediate learners is that there isn't enough breadth in their learning. The only resources available are textbooks, which are usually okay, but far from enough, and real-world Chinese, which is way too difficult.
If you as a student follow the carefully marked path set by your textbook or course and do nothing else, you will soon be reading fairly advanced texts. But your foundation will be shaky and you will find that material outside your textbook is very difficult. You would benefit from more listening and reading at a lower level rather than keep learning words and constructions that are unlikely to help you much.
Enter: The Chairman's Bao
One of the most exciting developments in recent years is the emergence of services that help you broaden your Chinese by providing content at a specific level. That means you can keep studying as much as you want on your specific level, without making everything more difficult all the time.
The Chairman's Bao is a very good example of this. In essence, it's a site that provides news in Mandarin, written for specific levels of proficiency. The current span is from HSK3 to HSK6 and above. This means that the articles are limited in terms of difficult characters and words and that you can read about interesting and/or current events in Chinese at your own level.
This is amazingly useful. While there are graded readers that accomplish something similar, the Chairman's Bao is provided for free online. With audio. Each article is of limited length, which makes it easier to incorporate into your daily routine. Another benefit is that the topics are interesting and help you keep up-to-date with what's going on in the Chinese-speaking world. If you're going to read news anyway, why not do it in Chinese, adapted to your specific level?
I think resources like these are very good for learners at all levels. Students in general spend too much time fighting their way through difficult texts, while they would in fact benefit more from reading easier texts instead, enabling them to cover many times as much material in the same amount of time. If you haven't checked out the Chairman's Bao yet, you should. It costs you nothing, but adds great value to any study routine.
Skritter integration
The Chairman's Bao has been available and awesome for some time now, but the reason I write about it now is that the service just became even more useful for Skritter users. You can now add words you encounter in the Chairman's Bao directly to your Skritter lists, thus combining two very powerful ways of learning the language.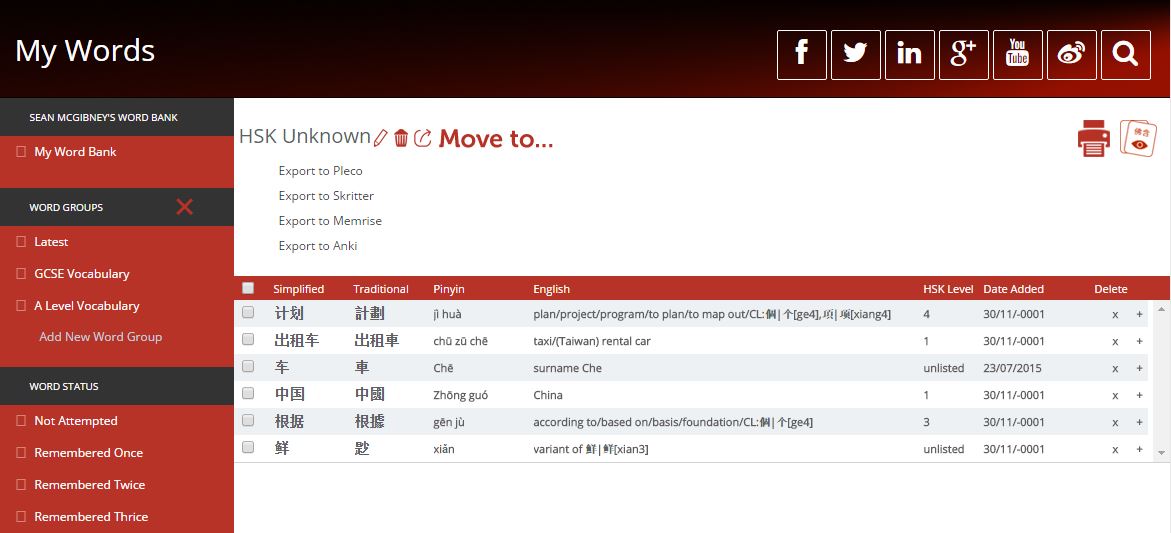 Interview with Sean McGibney about the Chairman's Bao
I also took the opportunity to ask the people over at the Chairman's Bao some questions about the site, how it came about and where it might go in the future. Enjoy!
What was the initial goal when starting TCB? What about today?
Our initial goal was to create the kind of language learning platform that we ourselves craved when we first started learning Chinese. To provide interesting, current, engaging content at varying levels of the Chinese proficiency test, HSK, whilst also introducing varying aspects of Chinese culture and loads of interactive features.
What do you consider TCB's greatest success to date?
For me, our greatest success so far has to be the fact we have attracted a user base of over 10,000 in a little over nine months. It's more than we ever could have expected when we started out on this project! Being invited to speak at the IOE Confucius Institute Annual Mandarin Teacher's Conference at University College London to show how we can be used to complement the new A Level syllabus in the UK was also a pretty special moment.
What's been the greatest challenge for TCB so far?
Our greatest challenge to date has been training our writers to hit the desired HSK level for articles. It's something we are always improving and we have developed an article grading tool that allows us to ensure our articles are good fit for the desired level. All of our writers have experience of teaching Chinese as a foreign language, so that also gives them a unique perspective when it comes to writing articles.
Tell us a secret about TCB that almost no-one knows!
Our team is currently split between three countries, so when you read an article it is likely that the article has already made its journey between China, the UK and Singapore – that's a lot of air miles!
Tell us a little bit about what's new on TCB, apart from Skritter integration!
We're excited about the Skritter export function, as it will allow our users to benefit from Skritter's excellent character writing tool. Aside from the recent website uplift, our developer is currently putting the final touches on our app, available on both iOS and Android, which will be hitting app stores soon!
How are topics selected and articles written?
All of our directors have lived, worked and studied in China (for a combined total of 25 years), so we choose articles based on our experience of what Chinese learners want to read. Content with a China-focus is preferred and users are also welcome to contribute topics for us to write about! A recent article on the European migrant crisis is an example of this.
How are the texts graded for difficulty?
Texts are graded using our HSK level analysis tool, which our writers and editing team all have access to. This allows them to work within the regulations we set for each level, such as the maximum number of unclassified words and the maximum number of words above the level. HSK is never going to be perfect, but we've found it an excellent place to start!
What plans do you have for the future? What's the next step?
We have our sights set on other languages, so keep your eyes peeled for that! We also have some improvements in the pipeline to make our website and app more interactive for users and to take the workload off teachers in the classroom.