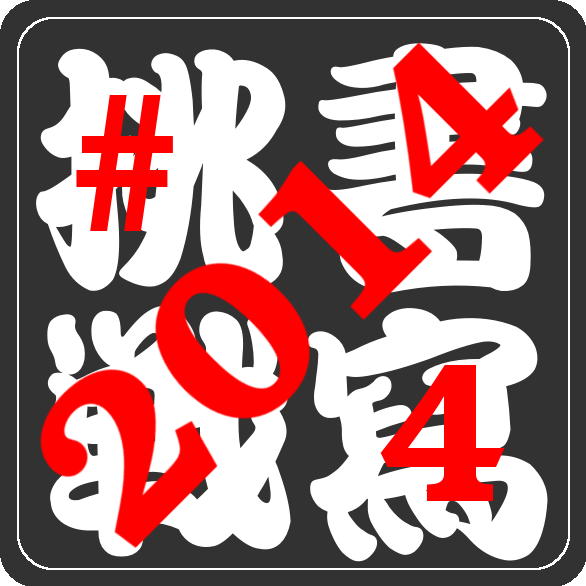 After 101 days, the sensible character challenge 2014 has now come to an end. It's time to hand out the last prizes and wrap up the challenge. If you've participated, I hope you have learnt as much as I have, and if you haven't, I'll make sure to highlight the things you really should read.
I recommend reading the first article (Sensible Chinese character learning revisited) as well as the "what have I learnt" sections of the other articles. These articles were posted on Hacking Chinese, but I will write much more about character and vocabulary related issues here on the Skritter blog later.
Prizes for the big finish
Since this is the end of the challenge, there will be even more prizes!
Skritter extension – One week free extension will be awarded to all active participants. If you want your free extension, you need to have been active in the challenge, all you need to do is join this group and you should get your extension (provided that you have been active, of course, meaning a bare minimum of joining the challenge, posting a progress update for this milestone, along with regular use of Skritter in June).
Hanzi WallChart posters – Three sets of posters worth roughly $50 each will be distributed randomly among active participants. These posters aren't only informative, they look cool too! You can see the posters here.
Glossika Chinese products – Glossika offers a range of products for Chinese learners and three participant in this challenge will receive one product of his or her choice for free. You can find more information about both Glossika and their products on the official website.
Winners are determined the same way as for previous milestones, i.e. randomly, but weighted for activity in the challenge (basically anything I have a chance to notice, including posts here, on Hacking Chinese, social media and so on), with a particular focus on progress updates.
I will announce the winners here on Sunday (July 6th), so you have a few days to post your updates. Note that only people who have officially joined the challenge are eligible. 
Your progress update
There's no fixed template, just write whatever you want to write in any way you see fit, but here are some examples:
Have you reached your goal for the second milestone?
What (if anything) are you going to change?
What have you learnt by participating in the challenge?
Note that activity in the challenge is completely unrelated to whether or not you have succeeded! Failing to reach your goal, thinking about why you failed and what you should do about it is perfectly acceptable. 
My progress update
I have reached my goal, I now have more than 5800 individual characters in Skritter! Naturally, I spent some significant time learning the last few hundred this month and some of them haven't really sunk in, but they have all been studied and learnt. his is what my challenge history looks like: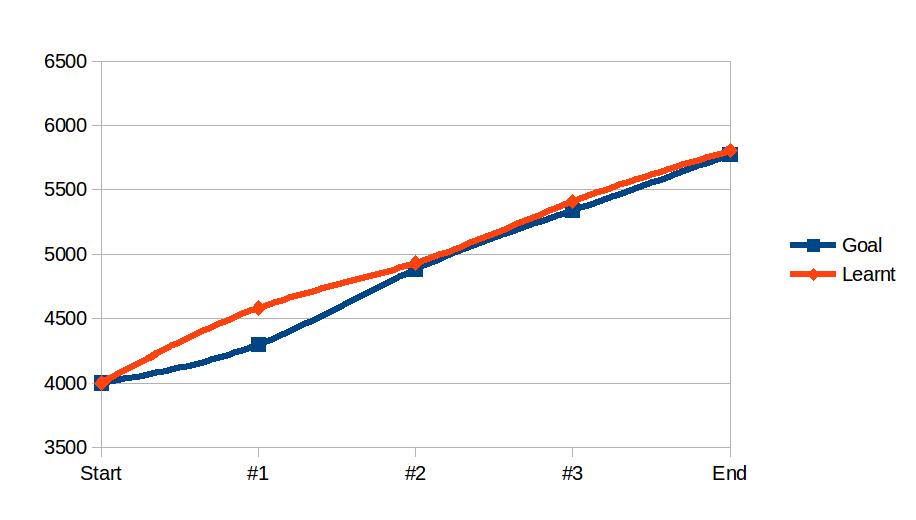 And this is what my Skritter progress page looks like:
How many characters do you need to know?
My goal for this challenge begs the question of how many characters one actually needs to know. The simple answer is that it depends on what you mean by "need". If you mean to be able to read most modern Chinese texts without having to look up many characters, you need far less than the 5800 I'm close to here. In fact, you can get very far with around 3000 characters and 4000 will make you comfortably literate (I'm now ignoring the fact that literacy of course includes other things than knowing characters, such as knowing words, grammar and so on, but that's not the point here).
So why did I think it was interesting to learn an additional 2000 characters if it isn't very useful? I did it for two reasons. First, I wanted to feel what it was like learning characters again. I haven't spent significant time learning characters for many years and this challenge was interesting because it made me realise some things I hadn't noticed before. I will write about these things later (some of them are already mentioned in the milestone reports).
Second, it's a mental challenge and quite fun. Even though I haven counted the exact time I spent on learning 1800 characters, I'm pretty sure the average is no higher than half an hour per day. That means about 50 hours or about two characters per minute. This might sound extremely efficient, but then keep in mind that most of the time, learning a new character is a matter of associating two characters that I already know with a new meaning. If it's a perfect phonetic-semantic combination, it becomes even easier (learning a character like 浬, nautical mile, takes just a few seconds to learn). Also, spaced repetition is very efficient.
Learning characters is not like learning random facts
When I started learning Chinese, I remember being a bit confused by people who said it was difficult to learn lots of characters. I mean, learning a few thousand isolated facts isn't that hard. What I didn't understand back then was that learning 5000 characters isn't like learning 50 characters a hundred times. The main problem when learning new characters isn't to learn how they are written and what they mean, but to keep them separate from the other characters you already know. Thus, even though character learning certainly becomes easier in some sense, it also becomes a lot harder, but for different reasons.
Future challenges
We are huge fans of challenges and you will definitely see more of them in the future. Some will be like this one, where we try to learn things together and share useful tips and insights, others will be very different, such as the character guessing challenges we have been running on Twitter for some time now (see a few examples in this forum post). If you have any cool ideas for challenges, let us know!
Stay tuned…
We will announce the winners on Sunday by updating this article, so make sure you post your progress report before then. Stay tuned!
…and the winners are
It's now Sunday and it's time to declare the winners:
Carla (both prizes for her wonderful graphics)
Doug Stetar (Glossika product of your choice)
Georges (Hanzi WallChart poster set)
Luke (Glossika product of your choice)
All active participants: Free Skritter extensions
I have sent e-mails to the winners. If you are an active participant and want your Skritter extension, please join this group and tell me. Any prizes left over from this challenge will be handed out in future challenges, stay tuned!