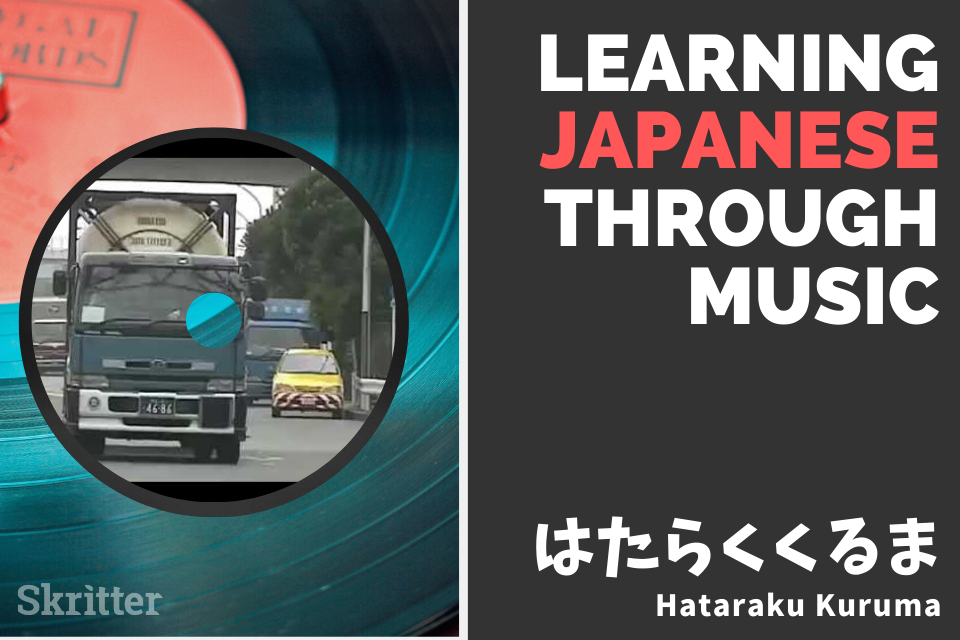 Click here to see more of these posts!
This series of posts covers Japanese songs, along with their lyrics, and translations so you can make sure you learn every word.
For this one, let's do a popular children's song about work vehicles which aired on Japanese TV in 1986, called はたらくくるま (Hataraku Kuruma), translating to "Working vehicles".
---
Lyrics:
乗り物 集まれ
いろんな車
どんどん出て来い
働く車
Vehicles, gather
Various vehicles
Steadily come and go
Working vehicles
葉書 お手紙 集める郵便車
町中 きれいに お掃除 清掃車
けが人 病院 急いで 救急車
ビルの火事には はしご 消防車
Postcards, letters, the mail truck that gathers them
All over town, make clean, the garbage truck that cleans
Injured people, hospital, hurry, ambulance
At the building fire, ladder, fire truck
いろんな車があるんだな
いろんなお仕事あるんだな
走る!走る!働く車
There's lots of different vehicles, huh!
There's lots of different jobs, huh!
Run! Run! Working vehicles
自動車いっぱい運べるカーキャリア
引っ越し荷物はおまかせ パネルバン
壊れた車を動かすレッカー車
ガソリン 満タン 配達タンクローリー
A car carrier that transports a bunch of vehicles
The luggage for moving (residences) can be left to the panel van
A tow truck that moves broken down cars
A tanker truck transporting a tank full of gas
いろんな車があるんだな
いろんなお仕事あるんだな
走る!走る!働く車
There's lots of different vehicles, huh!
There's lots of different jobs, huh!
Run! Run! Working vehicles
乗り物 集まれ いろんな車
どんどん出て来い 
働く車
Vehicles, gather
Various vehicles
Steadily come and go
Working vehicles
重たい荷物を上げ下げフォークリフト
地面の凸凹 平らにブルドーザー
大きな石でもらくらく ショベルカー
砂利をいっぱい積み込むダンプカー
A forklift that lifts up and down massive cargo
A bulldozer that flattens the uneven land
Even with big rocks, a shovel car (that does it) with ease
A dump truck that loads up with tons of gravel
いろんな車があるんだな
いろんなお仕事あるんだな
走る!走る!働く車
There's lots of different vehicles, huh!
There's lots of different jobs, huh!
Run! Run! Working vehicles
---
Word List:
(definitions and readings match usage in the song)
| | | |
| --- | --- | --- |
| 乗り物 | のりもの | vehicle |
| 集まる | あつまる | to gather; to collect |
| いろんな | | various |
| 車 | くるま | vehicle; car |
| どんどん | | rapidly; steadily |
| 出て来る | でてくる | to come out; to appear |
| 働く | はたらく | to work |
| 葉書 | はがき | postcard |
| お手紙 | おてがみ | letter |
| 集める | あつめる | to gather; to collect |
| 郵便車 | ゆうびんしゃ | mail truck |
| 町 | まち | town |
| ~中 | ~ちゅう、~じゅう | all over ~ |
| きれい | きれい | clean; pretty |
| お掃除 | おそうじ | cleaning |
| 清掃車 | せいそうしゃ | garbage truck |
| けが人 | けがにん | wounded / injured person |
| 病院 | びょういん | hospital |
| 急いで | いそいで | quickly; hurriedly |
| 救急車 | きゅうきゅうしゃ | ambulance |
| ビル | | building |
| 火事 | かじ | a fire |
| はしご | | ladder |
| 消防車 | しょうぼうしゃ | fire truck |
| ある | | to be (inanimate objects) |
| 走る | はしる | to run |
| 自動車 | じどうしゃ | automobile |
| いっぱい | | full; a lot of |
| 運ぶ | はこぶ | to carry; to transport |
| カーキャリア | | car carrier |
| 引っ越し | ひっこし | changing residence; to move |
| 荷物 | にもつ | luggage; baggage |
| まかせる | | to entrust to another |
| パネルバン | | panel van |
| 壊れる | こわれる | to break |
| 動かす | うごかす | to move |
| レッカー車 | レッカーしゃ | tow truck |
| ガソリン | | gasoline |
| 満タン | まんたん | full tank |
| 配達 | はいたつ | delivery |
| タンクローリー | | tanker truck |
| 重たい | おもたい | heavy; massive |
| 上げ下げ | あげさげ | up and down |
| フォークリフト | | fork lift |
| 地面 | じめん | ground |
| 凸凹 | でこぼこ | unevenness |
| 平ら | たいら | flat |
| ブルドーザー | | bulldozer |
| 大きい | おおきい | big |
| 石 | いし | rock |
| らくらく | | easily; comfortably |
| ショベルカー | | shovel car (digger) |
| 砂利 | じゃり | gravel |
| 積み込む | つみこむ | to load; to put on board |
| ダンプカー | | dump truck |